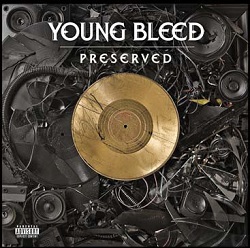 Sounding more like a trip south of the border than a trip to Baton Rouge, "City Uh God" rings in with some soulful spanish guitar that sets the mood for any outlaw.
Produced by Keith Clizark, "City Uh God" gives Young Bleed some room to flex his rap muscle and boast as he rides over the unusual production. Living off the streets, Young Bleed lays out his hustle, whether it be in the rap game or in the hood. Within the walls of his city, no one can touch Young Bleed. The Louisiana native shines with confidence and demonstrates the kind of charisma that could only come from the South. The game here is to make money and make it out alive, there is no choice in "The City Uh God". Keith Clizark also shares writing credits on this select cut from Preserved.
"I made this song in particular from coming back to Baton Rouge a few years ago and finally having the chance to see the movie City Of God. It's hard to sum it all up. Baton Rouge right now, you've got four or five murders a day. They're senseless murders–kids! You look at the movie City Of God, a lot of kids are robbing and killing. One kid in particular, Li'l Zé, he's a young killer and he grows up a killer like that. That's my family and my backyard: this shit is a killing field. Fuck the bragging rights and all that, it's sick and pathetic. A lot of the shit I come home to relates to that. A lot of people, if you're not paying thirteen to seventeen hundred a month, you're in the heart of the ghetto. That shit is overcrowded due to Katrina and everything else. You've got Baton Rouge people killing New Orleans people and New Orleans people killing Baton Rouge people. I've got a list of family members that just over the years has gotten into some shit I can't even get into. The slum, the Rio De Janeiro for those who don't know the movie City of God, that's right in my neighborhood. Police get killed right in the alleyway. I went right back to the heart of my hood and a few other hoods. I couldn't leave wife and kids in the crib with motherfuckers shooting right by the window and shit. I had to move around and sleep back with a gun. I always give my glory to God and see how he looks out for me because I've been to the heart of hell. Without going into personal situations with family members and different things like that, that's the best I can tell you."
Click here to purchase Preserved on iTunes.