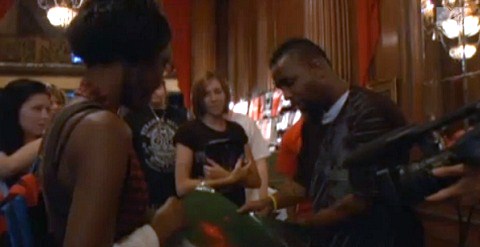 From touring the country to in-stores and VIP meet and greets, Tech N9ne always makes time to connect with his loyal fan base. In this brand new exclusive from MTV POSTED, cameras follow Tech N9ne during the Kansas City date of the All 6's And 7's Tour as he shakes hands and takes pictures with the very people who have supported him for years.
Join Tech N9ne as he meets with over 100 fans during an exclusive VIP meet and greet in downtown Kansas City. Signing autographs and taking pictures, the independent emcee explains how special these events are to him. Then follow Tech as he visits with fans in the military to give them a one of a kind homecoming.
The Tech N9ne experience is unlike any other and MTV POSTED is keeping up with the very best of it all month long!
Click here to watch.
What did you think of the exclusive video?
Have you ever attended a VIP meet and greet?
Let us know in the comments below!