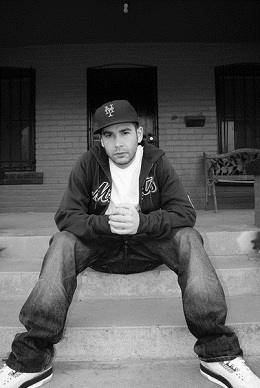 As a self-proclaimed mini mogul and mind behind the Underground Hustlin' series, Intrinzik has been lighting up the hip hop scene in Arizona for years.
Doubling as both performer and promoter, Intrinzik has also played a pivotal role in Strange Music's tours in the Phoenix area. Now, Intrinzik looks to once again hit the stage with Tech N9ne for The Lost Cities Tour, taking place at The Marquee Theatre. The Lost Cities Tour will feature Flawless, Jay Rock, Krizz Kaliko, Kutt Calhoun, and Tech N9ne as they make their return to Phoenix. Focused and busy as ever, the underground MC spoke to us about his expectations leading into The Lost Cities Tour and what he hopes will be another successful outing for Strange Music in Arizona.
It seems like Tech N9ne has a huge following in Arizona. What are the shows like out there?
Yeah, Arizona is big for Tech. He usually sells out Tuscon and Phoenix back to back. I know they added in Flagstaff to the mix, it should be slamming as usual. Tickets are moving, phone calls, everything is popping off. He does real big numbers here. Ticket prices here are higher than the average market, so that tells you what kind of demand he has and he can still keep selling them no matter how high they go, it's crazy. It's awesome. Basically the first one I ever did was I think in 2002 or 2003 at the Huntridge in Las Vegas, and from there it just kept going. I've been doing the Phoenix shows for years, probably since 06 or 07. We've done the Strange Noize Tour every time it came through and Krizz Kaliko's solo show. Anytime Strange is here, we love getting involved. We have good relationships with the people at Strange, we move a lot of tickets for them and push a lot of flyers for them. Every time it's off the hook. It's always a live crowd, always a good looking crowd. There's lots of good looking girls, dudes who love to pit, dudes who love to party. You can't beat it man. Between you guys, Psychopathic, and Sub Noize, it's just chaos every time there's a show going on.
As an opener for Tech N9ne, do you feel the pressure to step up your performance?
Yeah, watching Tech over the years it's definitely inspired us to include more choreography, more crowd participation stuff. Obviously you want to go out there every night no matter who you're performing with and give it everything. Just the energy in the building, knowing Tech's in the building, and all the artists in the building, you definitely want to give it everything. You want to give it all every time, but there's definitely more energy, more hype in the building when Tech's involved, when Strange is behind the event. I definitely say Tech has inspired us as performers, me as an artist, performer and a business man as well. Definitely, you want to give it everything. Tech's fans are used to seeing that crazy live show, so you want to give them that flavor before Tech comes up.
What do you have in store for your performance that night?
It's me, Mcnastee, and External. We all pretty much do the shows together. We got a pretty cool intro planned, Mcnastee is working on grand entrance thing and then we're going to go into one of my new tracks "Rock And Roll". We've got a whole thing planned out, we're throwing out a lot of 80's references. We throw in a lot of choruses over instrumental breaks. We'll throw in like a KISS chorus or a Dr. Dre and Snoop Dogg thing. Just to keep people who are new to our music hooked in by throwing out stuff they already know. I've got a special performance at this particular show because I'm adopted and I recently found my birth parents. My biological father is also a drummer and a musician, so at the end of the set I'm going to bring him out and he's going to do a couple of 80's remakes of a Bon Jovi song and a Hall & Oates song. It's the first time we've performed in Phoenix, which is pretty big for us. We're both from New York, but we both ended up in Phoenix without even knowing it. A lot of hype for this one. Everyone is bringing something to the table with Intrinzik and the group as a whole.
What kind of expectations do you have for The Lost Cities Tour in Phoenix?
As far as numbers, it'll do its thing. Tech does 1,300 to 1,400 people. We always do really well selling cds, selling whatever merch we have at the time. It's always half new fans, half old fans. Just good times, good vibes, everything positive across the board. Never drama with Tech and his shows. He keeps it 100% professional, 100% business. I don't expect anything less than a perfect night. It's a holiday, kids are off from school.
Fans can catch Intrinzik, Mcnastee, and External live with Tech N9ne on The Lost Cities Tour in Phoenix, AZ at the Marquee Theatre on October 10. Click here to purchase VIP packages for The Lost Cities Tour.
Be sure to check out more from Intrinzik and his work with up and coming artists on Underground Hustlin at www.undergroundhustlin.com and click here to read more about his story on finding his real father.
-Victor Sandoval, Assistant Editor Strange Music
Follow Victor on Twitter: @VicMSandoval