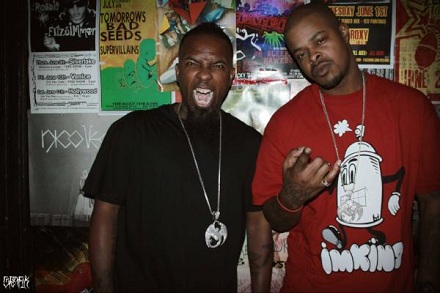 The Lost Cities Tour invaded Hollywood this past weekend when Tech N9ne and Strange Music hit the legendary Roxy Theatre on West Sunset Boulevard. Fans in West Hollywood got their first taste of newcomer Flawless, who has been making a strong impression on audiences across the country. Jay Rock rode the wave of homecoming love as he performed hits like "Hood Gone Love It" and "Bout That". Tech N9ne, joined by Krizz Kaliko and Kutt Calhoun, hit the stage with a brand new set that included a new intro plus a special medley of his Choppers series. The packed crowd lit up the Roxy as The Lost Cities Tour wrapped up another huge show in California.
Watch Tech N9ne perform "He's A Mental Giant" at The Roxy Theatre.

Twitter reactions:

Fan Review
Marissa Knight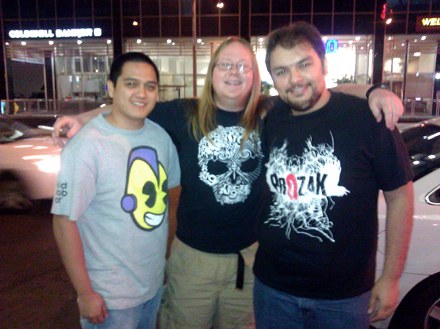 The Roxy, a legend of its own, opened in September 23, 1973. It has been the party pad to many musicians, socialites, and artists throughout the decades. Famous names have come out of there like Neil Young, Bruce Springsteen, The Red Hot Chili Peppers, Van Morrison, Warren Zevon, The Ramones, Peter Gabriel and Frank Zappa. The Roxy even played host as a popular hangout to John Lennon, Alice Cooper, and held many parties for infamous Hollywood Madame Heidi Fleiss. And now Tech N9ne and the Strange Music Revolution have broken through and to my personal belief have added to the history of the infamous Roxy.
The night was a cool one, with a bit of a breeze, the Sunset Strip on a Friday night, full of people, and the sign above The Roxy read Tech N9ne. I could feel my blood rush, and my heart race, as we smoked a cigarette before we walked in to the club. The atmosphere was perfect, the crowd impatiently waiting to hear the front man hype for Tech N9ne.
The struggle to get to the front of the stage wasn't a rough one, as the venue is not the largest. The opening acts Flawless and Jay Rock did an amazing job setting the mojo for the fans when I heard it:
"People are strange when you're a stranger; faces look ugly when you're alone. Women seem wicked when you're unwanted; streets are uneven when you're down. When you're strange, faces come out of the rain, when you're strange, no one remembers your name, when you're strange, when you're, when strange." (The Doors, "People Are Strange")
"Strange Music Box", the most banging song I have always wanted to hear Tech come out too. The crowd immediately sang with their hands in the air. Tech N9ne, Krizz Kaliko, and Kutt tore that shit up.
Just the opening of his show alone had me screaming and the crowd was heated. I was completely lost in Strangeland.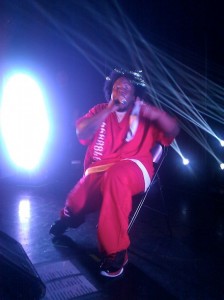 Krizz Kaliko was working that stage with some of my favorite songs "Anxiety" and "Elevator". Damn, Kali has some incredible stage presence I felt like he was singing to me the whole time because I was right there in the front.
A few of the songs that I heard that night I was surprised to hear like "Sex to the Beat". I think it's awesome to hear Tech tap into Killer and K.O.D more. I was craving more off of Absolute Power and Anghellic. I hope I live to see the day to hear that.
Tech worked his way down to the crowd (with body guards of course), and if I ever saw an appreciation for his fans, Tech's fans, Strange Music's many followers, it was during that beautiful night at The Roxy.
Since I was literally up against the stage, when Tech came close enough to the part of the stage I was at, you best believe I touched him as much as I possibly could. Tech held my hand which was the most amazing experience I have ever had. I felt electrical currents run from me to him, the inspiration, the man who helped me cry my tears when I couldn't, held my hand. And of course I being the female I am ran my hands up and down his chest. The security guard looked at me but I didn't give a flying leap.
Tech and the Strange Music crew had me my boyfriend Eddy, and my two best homies Jackson and Nick, mesmerized. Tech was up there doing his sexy-ass thing, working that stage throwing sweaty towels into the crowd and when my friend Jackson caught one, oh my, I have never heard a grown ass man scream like a little girl until that moment. Later in the show after taking numerous pictures of the show, Tech came back to the part of the stage that I was at, and ever so sweetly placed one of his sweaty towels directly in my hand. I smiled while trying not to have a heart attack and blew him a kiss, which made Tech smile.
The best part of the show that had me laughing was the crowd kept screaming for "Areola" and Tech laughed and said "It wasn't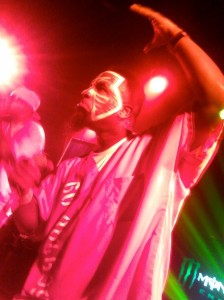 time for that one yet."
"Caribou Lou", "I'm A Playa" and of course "Areola" came on and the crowd was eating that shit up. I had never felt so lively. I love that the three of them did two of my favorites: "Midwest Choppers" and "Welcome to the Midwest". I swear if that place got any hotter, it would have burned down. I have been to The Roxy for many concerts and by far, Tech has been the best performance I have seen there.
After thirty or so songs later, pouring sweat, voice gone from singing to every song, screaming too loud, Tech ended the night with his ever so popular "Stamina" skit. His shout out to crowd before he walked off the stage, was so humble, so beautifully spoken, perfectly worded;
"Thank you for making this my job. Thank you for making Tech N9ne."
I have never felt so alive, so drained, so electrified after a concert. A beautiful end to a glorious night. So many memories, hearing the honey straight from the honeycomb. Do I have to tell how satisfying it is? I'm ready for his next tour. It's never enough. And Tech if your reading this on a personal note, "Thank you, and you are definitely more than one good time."