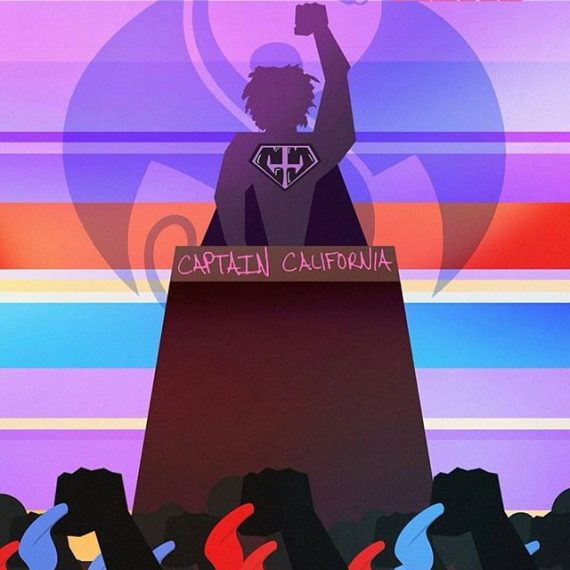 "Try to find out how you can continue to grow this thing/And better this thing and take this thing to higher heights with/More knowledge and more conviction"
Imagine it's the date of your album release. You've been running around all week doing promotional interviews, meet and greets, and twitch streams. You're tired (probably). Now, you are on your way to another interview and in-store signing.
You see someone trying to start their car; the battery is dead.
Be honest…what would you do? Would you stop and help knowing it'll make you late on the biggest day of your year or  would you keep going…
Be honest…
A rapper going out of his way, especially, on the date of a release is headline news, but for Captain California, himself it's just another day serving the people; serving hip-hop.
Since I heard about Captain California, I've been trying to think of a way at accurately capture just how big MURS' impact on hip-hop has been; a tall task. Guinness world records, more collaborative albums than most artists have solo projects, a successful, legendary concert series. A "gatekeeper," an "OG," to me, he is hip-hop, an expert storyteller with a bevy of flows, styles, and cultures. Someone who is committed to reflecting the ideals of hip-hop in music and actions. You can't summarize that expertly in a few thousand words.
It was my hope to align MURS with the biggest names in the industry to really hammer home how important, how "big" he is,  to show how his name rings out (It does, trust me).
But in talking with Reverie and Curtiss King, two friends and collaborators, in seeing MURS stop to help a stranger on his album release day, I realized it's what he does that doesn't shimmer on the marquee, or sound good in a tweet, that makes him so important. It's the small things he does for somebody else when nobody else is watching, that matter most to MURS and matter most to hip-hop.
Now Imagine, you are on tour grinding out show after show…
Imagine you are in the green room, in the middle of the day….
You hear your openers using soundcheck as rehearsal, would you kick your feet up, grab another drink, and rest up before the show? I think most artist would.
Fortunately and unfortunately for Curtiss King. MURS isn't most artists.
I'll let Curtis tell it,
So, Noa James and I went on tour with MURS in 2012, I forget what city we were in but we were sound-checking and rehearsing. At least I thought we were sound checking and as we're starting to go through songs, because we were splitting time, trying to figure it out, thinking this is what soundcheck is, and MURS comes yelling out the back "THIS IS NOT REHEARSAL! THIS IS CALLED SOUNDCHECK Gentleman!" He went in on us.

The next city over we learned our lesson, he says "Curtiss what is this" I said, "Soundcheck." He goes, "This is not what?" "It's not rehearsal."Then  at that same show, he proceeds to go on stage and say " I hope you guys enjoyed Curtiss King and Noa James, let them know Soundcheck is not rehearsal."

He does it in front of his audience, while we're trying to sell merch!

If you don't know him you'll look at that and think it's jacked up, but I'd rather have him be like that, be as transparent as possible because that makes you love him even more.
You might recognize KING from Captain California standout "Lemon Juice" but due to the 4 minute onslaught of insults, you might not know MURS and Curtiss are longtime friends. Originally linking up through Curtiss' "Road to paid Dues" campaign–where he posted 99 videos (like this) showing MURS why he should be on Paid Dues–King has been learning from the veteran emcee for years. Curtis called his relationship with MURS, "some of the greatest mentorship anybody could ask for, especially independent artists." Adding, "Nobody in that position will ever be selfless enough to give me information like that."
It's interesting, on the outside, to hear about the lessons of perseverance, patience, and determination and see how they are reflected in Curtiss' own unique, successful carer. With placements with the likes of Ab-Soul, Glasses Malone, and a few albums of his own, Curtiss music career is steady, but in talking with him, his focus seems aimed at his Youtube channel where he provides independent artists a blueprint for the music industry.
Rappers are often magicians, never revealing their secrets, so to see someone be so candid is a rarity.  It's a career choice people in the industry took notice of, "a lot of rappers turned their back on me." Curtiss continued, "They were like, 'You're giving away all the juice, you're giving away all the secrets. This is stupid. You're putting your career on hold, what are you doing?'"but Curtiss stuck to his gun, "I made a decision to give my way, give my way to everything that I want." And now? "The audience that I gave to via YouTube pushed my album to #4 in the country."
To hear that then hear him tell a story, about MURS, taking him aside on tour and telling him, "don't worry about anything your peers are doing around you," I couldn't help but see that in his Youtube channel. The ingenuity, the vision, and the consistent drive is all Curtis, but MURS not only gave him some valuable lessons in soundcheck, but encouraged him to do it his way. MURS went out of his way to teach Curtiss some small, yet pivotal lessons, and now Curtis is taking what he learned, what he built off of those lessons, and sharing it with other independent artists.
It was through music, that MURS lent a hand to Curtiss, but for, another indie artist, Reverie,  MURS first helped with his music. Reverie, an L.A. native, turned to MURS early on, coming from a broken home and dealing with drug abuse, "MURS music was always there to bring me piece of mind, let me know I'm not alone and it's going to be alright." She added with no hyperbole,  "His music saved my life."
MURS always approaches his music with unflinching honesty and a brazen sensitivity, not often found in an image-conscious industry. It's what allows us to connect as deeply as Reverie has. Rarely, though, does that connection move from headphones to real life, but, yet again, after seeing a video she posted to Mypace, and later meeting at a show, MURS reached out a helping  hand.
"I did this video when I was 18 and I was wearing a MURS shirt. When I went to his show, and when I went to his show, I introduced myself. He was like, "OH, it's nice to meet you! I saw your video of you wearing my shirt. I thought your video was cool. You got bars, that's dope. You're from LA, that's cool!" We just chopped it up at the show, and that's how we met.
Meeting fans, is an everyday occurrence, but again, MURS went, above and beyond, "we just kept in touch over the years, and he's been really supportive of me and my career and my growth, and been straight to me about how cutthroat the industry." Their relationship has lead to a Paid Dues appearance for Reverie, a collab off her 2016 album Russian Roulette, and most recently, a standout cut off Captain California, "One Uh Those Days."
The off-kilter limp of the beat, the attitude that dougies the fine line between apathy to anger, "One Uh Those Days" is so effective because how how harmonious the discord is; the content matches the sound perfectly. Reverie is perfect for it. It didn't happen by chance, and it wasn't based (solely) on how it would sound. When asked what made Reverie right for the cut, MURS' reason went far beyond the normal collab.
 "I knew Reverie could relate cause she's like people who have this inner anger that go around all day trying not to fuck people up. I had a problem when I was younger. Who I am now is very different than who I was then. It's a work in process and I know Reverie goes through  the same struggle, I know Reverie deals with that inner rage and that's kinda what this songs about. I wanted to get the female's perspective because there are a lot of females that deal with that aggression."
When you hear stories of collaborations, it comes from being at the right place at the right time, it comes from sharing an artistic vision. With "One Uh Those Days" however, it's deeper. MURS knew the things she goes through would translate musically because he connected with her personally. In an industry where time is the only luxury bands can't buy, MURS took his to nurture yet another young emcee, helping her grow and develop. The end result was a great collaboration, but its just a bonus. As we've seen before, MURS puts people ahead of music, it's just that often times, that ends up making the music better.
"hip-hop is dead."
It's a phrase you've heard  over and over.  It's such a stock statement even the response has become just as rote…
"Look at ____, did you hear _____? How can you say that?"
It's an endless  back and forth that gets nowhere…
Even if you are in the "hip-hop is alive and well" camp, the arguments are counter intuitive. You are boiling down hip-hop to numbers, to the things that come from hip-hop ignoring not what hip-hop is. Hip-hop won't live or die because of a single album or song or artists. Hip-hop will live or die based on how many artists are willing to put others ahead of themselves and take time to educate the next generation of emcees on things as small as soundcheck to things as big as dealing with inner anger. That's where the war for hip-hop is waged.
Hip-hop doesn't need someone who catches a lot of fish, but someone who teaches how to fish. Hip-hop doesn't need saviors, it needs apostles. When hip-hop needs a jump, it's MURS holding the cables.
He's been doing for decades.
He'll continue to do it.
Even if it makes him late his own parade.
CLICK HERE TO PURCHASE
CAPTAIN CALIFORNIA ON iTUNES!