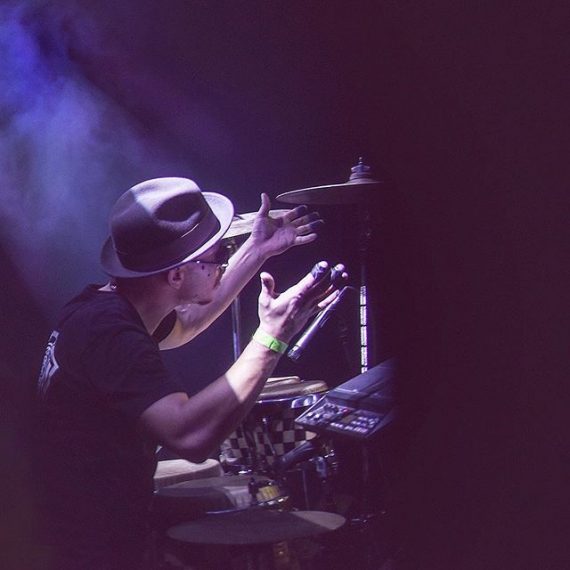 "The word 'artist'… I don't agree with that being only reserved for vocalists. Artist is a person that practices the arts. A painter is an artist. A DJ is an artists. A videographer is an an artist. I've always had a problem with that being reserved for people with the mic."
The interview with NonMS of ¡MAYDAY! went from discussing their tour and Search Party, into a conversation about the merits of DJ Khaled, the legacy of Jimmy Iovine, and concluded with what it means to be an artist.
Though he apologized for the tangent there was no need for an apology…
If anything, it brought what we had previously been discussing full circle.
Though not an "original" member of ¡MAYDAY! NonMS the nuclear percussionist has always been a integral piece of the puzzle since joining.
After opening for ¡MAYDAY! with his band Fuzik, and impressing them enough to get a studio invite, it only took one studio session, hell, even just one play through, to feel the chemistry.
"It just clicked I knew the song. It fit perfectly," he said, adding "We all looked at each other, gave each other the eye. And that was it."
He fit in seamlessly, providing the percussion and bringing a unique element to ¡MAYDAY!'s live show with his dancing; a product of his B-boy roots.
While his start with ¡MAYDAY! was so natural, so smooth, that's not to say there haven't been struggles; especially recently with the departure of two members including the one of the crew's co-founders.
"It's been this strange journey. It's been weird, awkward and specifically for me it's been really tough. But it's also been a blessing."I learned not get too egotistical, not let my emotions get too involved."
The lessons didn't stop at personal growth.
In addition to learning about himself as a human, the tumultuous era has put NonMS in positions as an artist that he never would have dreamed of, but are becoming reality with each passing beat.
As NonMS explained:
"Here I am producing, which initially was nowhere near my radar when I first started. I've been a percussionist and a performer first. So in 2014, is when I really began with software. I don't want to say it was a natural progression, but the universe knows what its doing and here I am in 2017 producing tracks, being involved in production and even songwriting. It's been great and I'm growing as an artist. Friends of mine that are producers, that's all they think about when they wake up; opening up their laptop and making a beat. That was never me at all."
Does he notice a shift in his mind state like that?
"A hundred and ten percent. I've gotten really into the keys, into the piano. I'm learning the bass. Because of production I'm learning how to play other interments. as well."
The growth and the trials and tribulations, have lead to him earning a solo production credit on Search Party standout "System," which features their Lost In Paradise Tour brethren Common Kings.
The song–which  NonMS explained (quoting Bernz), "is the best representation of what we did with the Common Kings tour." Combining reggae, with ¡MAYDAY!'s "hardness"– challenged NonMS to get outside his comfort zone working as not just a producer and a songwriter, but even as an executive:
"That was an interpretation of 'Belivers'. Not in the sense of copying the drums, but copying that feeling. As we were on tour, we were looking for songs to give out to Common Kings and that song popped up in the first week but throughout the whole tour I didn't say anything.

When the time was right I brought it up again. I was talking to Mata, the guitar player, and when he sent the stems, he sent a melody that JR the singer put down by mistake.  

So i kept on calling and calling like, 'let's get JR! let's get JR!' and it got to the point where I had to write part of it. So I wrote it sent it, he sang it and boom it's on the song.

For me, it was a big win."
The art that the artist creates is so often seen as just that the art–the final product–but the true art is in the creation process.
It's the hours, days, months, even years of struggle, blood, sweat, tears, and (especially) in NonMS' case, the growth.
The art is in the struggle, the fight, and the determination, so while NonMS may, just now, be seeing the final product, he's been an artist long before any official credit.
CLICK HERE TO PRE-ORDER SEARCH PARTY NOW!