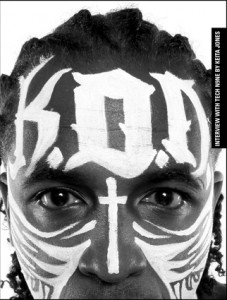 Tech N9ne was featured in an interview for April's Murderdog magazine. It's a very extensive piece that covers a lot of ground: from Tech's musical influences to his attitudes toward being the number-one independent artist in hip hop. Tech explains how the groundwork behind the independent success and compares his tours to political campaigns:
"All the hard work from me and Travis, pushing these tours and getting out there and letting people know… We did it like a president would during a campaign. We went out to these places that didn't know who I was and built it to a success story. And we ain't done yet. I tell people I'm the number 1 independent artist in the world and that's dope. But just think when it's all the way there because we are almost all the way there. Strange Music is about to be there, nigga. For real."
Furthermore, Tech attributes much of his music success to having a brilliant business partner in Travis O'Guin: "You got to have a true businessman like Travis O'Guin that's fuckin robotic. I'm robotic on the music side. I'm a music machine. Travis is a business machine. You put both of us together we gonna go to the top, muthafucka."
Like Tech's music, the interview is very candid, revealing, and in-depth. Click here for the full piece.