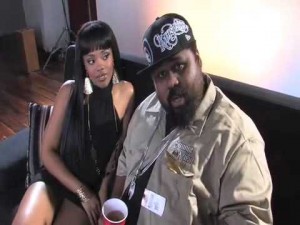 Big Scoob knows how to throw a party! In fact, you could say that "Salue", his latest single from Monsterifik
, could have been written for the sole purpose of doing the music video and inviting hundreds of his closest friends and homies for a bonafide gangsta party. Scoob had the women, the whiskey, and where else would you find Tech N9ne mixing Caribou Lous and KC Teas in the kitchen?! This video shoot was definitely one to be remembered.
The day began early with the women getting their hair did and make-up done with the cosmetologist servicing two ladies at a time. After signing the model release forms, the guests gathered in the reception hall, grabbed a snack and poured themselves a drink or two. Scenario had his stereo system bumping the whole night playing "Salue" while the video crew from Liquid 9 steady hustled to make sure everything was ready for the next scene. By 7pm, it was officially a party.
Scoob was calm and relaxed as if it was just another Saturday night and with Tech N9nebeing the natural in front of the camera that he is, the video came to life just as the director could have hoped. People were coming and going in and out of the facility to either smoke or have a quiet place to chat. It was a closed event. Only those on the guest list could enter, however, security for Strange, Joe Vertigo, made an exception for a few teenagers that were eager to be a part of the shoot. Their enthusiasm was rewarded as the director let them become extras for the kitchen party scene.
By 10 o'clock, "The Martini", the last shot of the day, was taken and the night was coming to a close. You can imagine the scene of hundreds of people, some been drinking since 5pm, all hearing Scenario belligerently scream "it's time to get the fuck out!" over the PA. The party was coming to an end, but after a few unsuccessful "announcements" over the PA, Tech grabs the mic with two hands and began "pww ch pww chh" into a beatboxing routine that lasted several minutes. Looks like the party wasn't over yet! Focusing on his delivery, even after who knows how many drinks consumed, Tech brought the party back to life with his beatboxing skills on the mic and the dance circle evolved naturally surrounding the PA gear. A few of the extras in the video jumped in the middle of the circle to show off their moves; Big Scoob had the last laugh with his b-boy dance impersonation– classic.
The hard work all paid off when Scoob received the final video from the Liquid 9 productions. Watch the making-of the music video here or view below.