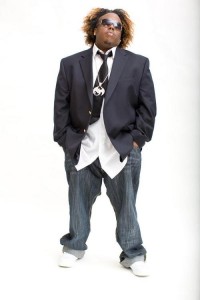 During his time in Minneapolis, Minnesota on his solo tour, Krizz Kaliko had the chance to do an interview with Mr. Peter Parker on his online-radio-and-television show Parker Vision. Krizz was able to talk about the constant touring he endures with Strange Music, and addresses the incident that was the craziest moment for him on the road (the van flip accident that he survived along with Tech N9ne, Kutt Calhoun and others on the way to Spokane, Washington. Krizz was ejected out of the van and back into it). Irv Da Phenom, Krizz's hype-man and fellow performer, makes a quick appearance. Krizz then talks about upcoming tours: North By Northwest, Strange Days, and his new album, Shock Treatment,due for release September 14, 2010. A stellar moment in the interview came when Krizz addressed what a real hip hop performance is all about:
"If you are walking around on the stage holding your johnson and just saying 'oh! yo!' and think that just because you're a good rapper that that is enough, you're sadly mistaken. We're working out. We come to shut it down. I said it in the song 'No Can Do' with Tech N9ne–ask Busta Rhymes. He said nobody had the gift like him and Spliff but me and Tech N9ne. He said 'nobody shuts it down in the industry, dog, more than me and Spliff Star besides you, and Tech, and Kutty.'"
Krizz continues on, stunning Peter Parker with his revelation that he performs about 230 times a year. He also reveals that he was actually into pre-law school before he signed on to music, citing "horrible study habits" and that he had been "having music in me forever" as reasons that he is now a musician to the fullest. Krizz goes on to respond to Parker's inquiry of the Tiger Woods situation, addressing that when someone puts themselves out there–whether it be in entertainment or sports–they leave themselves open to scrutiny, which is why Krizz keeps his family away from the public eye. Krizz plugs Shock Treatment, saying he wants to hit high in the Billboard charts for "rock, rock, and r&b", and also plugs Tech N9ne's upcoming collabos release The Gates Mixed Plate. The banter between Krizz and Peter Parker is very loose and entertaining, making this an interview no Krizz Kaliko fan should miss. Click here or watch below to view the interview in its entirety.