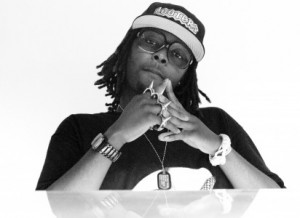 It's a long way to the top, but Irv Da Phenom is taking the "Toyota mode" route that will get him there quicker than most: All Gas, No Brakes. The Krizz Kaliko hype man and brilliant musical multi talent will soon find himself on stage at the Beaumont Club tonight for a pinnacle moment in Strange Music history: Krizz Kaliko's hometown headliner debut. We talked to Irv Da Phenom who also took many questions from the fans along the way. Irv shared the story of how he started as a street-teamer and intern for Strange Music, turning up the hustle to eventually become an artist that would collaborate with Tech N9ne and Krizz Kaliko. Irv tells of the amusing cameo he made on "Get Off" from Krizz Kaliko's Genius that allowed him his debut appearance on a Strange Music release.
In a statement reflective of an independent artist, Irv Da Phenom explains the purpose and meaning behind his record label, Def Metal Gospel:
"Def Metal Gospel is more than just a cool sounding name, it's really my way of life. It's an outlook on life that I've come to develop over time. It's just a state of not being contained into one kind of genre, one type of lifestyle, and one kind of thought process. Through life we're told that you're only supposed to do certain shit: go to school, get good grades; go to college, graduate; get a good job, get married. Me, personally, I say 'fuck that' because that's not what I want to do!"
Irv goes on to take calls from the fans, one of them being a young lady from Colorado who wondered: "What's the freakiest experience you've ever had with a groupie?" In an entertaining turn, Irv struggles to find the words to well-describe all the things he's seen on the road. Irv also reveals towards the end whether or not he'll be on Tech N9ne's upcoming album, All 6s and 7s.
Listen to the interview below. Don't forget to check out Irv Da Phenom along with Krizz Kaliko TONIGHT (February 25, 2011) at The Beaumont Club for Krizz Kaliko's debut solo show in Kansas City! The multi-talented duo will also be throwing it down at the Deja Vu Night Club in Clive, Iowa this Saturday (February 26, 2011).