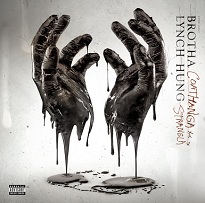 Creating a masterpiece of horror, Lynch has dropped one of his best tracks to date. "Mannibalector" thumps with a heavy and menacing bass line that rattles as strings give this murderous tale an eerie touch. Lynch comes out swinging with his first verse, flowing in quick bursts, he paints a picture for another crime scene. The production on this track alone is enough to drive fans crazy in anticipation for Coathanga Strangla. The hook comes in huge with a chorus like background and Lynch rapping:
Strange Music bitch, you can tell by the necklace
I carry me a chainsaw, but this ain't the Texas
chainsaw massacre, nigga worst than the Manson
murders, I turn em to hamburger meat
The over the top, big sound of "Mannibalector" makes it a perfect soundtrack to Lynch's cinematic plot. Listen below for the exclusive first peek at "Mannibalector". Coathanga Strangla drops on April 5, but fans can pre-order their copy now by clicking here.