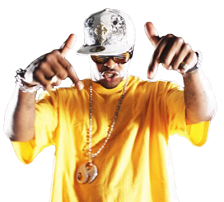 First impressions are everything, especially in hip hop. There is no other platform in which an artist can truly showcase their skills than a guest feature. The coveted guest feature says two things about an artist: first of all, he or she must be skilled enough that someone else wants them on their song; second, they must be diverse enough to be able to work with other artists. Hip hop is a competition, there is no secret about that. MCs strive to outdo each other and lay claim to best verse on a record. The sixteen bar feature is a tricky thing to take on though. For many MCs, that guest feature will be the first time they are exposed to many new listeners. It is that first impression that listeners get of the MCs ability to carry a verse. There is also the elephant in the room. You know, the "I have to do a better verse than the main artist on this record". In most cases, the featured artist knows how important it is spit a hotter verse than the main artist. There are a few artists today who are, what we like to call, "sixteen bar assassins". The elite, who no matter what, will always steal the show with a guest verse. These are the MC's who are at another level of the game, and can always land a hot verse on a record. Never mind a "guest" feature, they are the whole feature.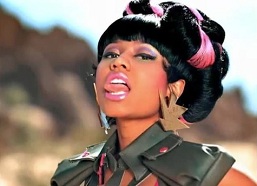 Hate her or love her, there's one thing you can't deny about Nicki Minaj: the girl can rap. Signed to Lil Wayne's Young Money imprint, the animated and always unpredictable Minaj has appeared on numerous hit singles in the last few years. Pitting her against her male counterparts, these records let Minaj shine and prove that she is the best female MC to come out in recent memory. Her cartoon-like delivery and knack for metaphors makes every verse as entertaining as it is unique. It is her position in the game as a female MC that drives Minaj to do better and better each time out. She understands the pressure she faces from her male peers, and so, her mindset is that of pit bull gone off its leash. She's hungry for it, and her guest features say it all. On Ludacris' "My Chick Bad", Minaj set off a great verse with memorable lines like:
"Its going down, basement/ Friday the 13th, guess who's playing Jason/ Tuck yourself in, you better hold on to ya teddy/ It's Nightmare on Elm Street and guess who's playin Freddy?!"
If that wasn't enough, just as people began to discredit Nicki Minaj for her abilities, she stunned the hip hop world on Kanye West's "Monster". Featured on a track with giants like Kanye West, Rick Ross, and Jay-Z, Minaj did what many thought was impossible, and stole the track. With 32 bars in the bag, Nicki received praise from the hip hop community for dropping her hottest verse to date. Hiphopdx.com named it the verse of the year. Nicki Minaj has made guest features all her own, as a self proclaimed "Monster MC".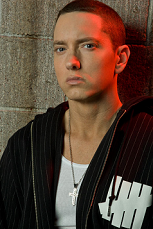 Coming off a four year absence and a newly released record, Eminem dropped in during 2009 to pretty much destroy every MC in his path. Often considered the best rapper alive, Em has never been one to back down on guest features. In fact, one of the pivotal points in Em's early career was his appearance on the Notorious BIG's
"Dead Wrong"
. Something happened in the last two years though. Something relit the fire inside Em and motivated him to just outright chew through MC's with guest features. Em landed his candidate for verse of the year on Drake's
"Forever"
. Paired up with Drake, Lil Wayne, and Kanye West, Eminem spit a double-time flow with enough muti's to make any hip hop head hit the rewind button. Jay-Z even went on record and called it his favorite verse of the year. Later that year, Eminem joined Lil Wayne on a mega collaboration for
"Drop The World"
. Once again displaying his new faster flow, Em ran through Weezy and made it his show. In 2010, rookie MC B.o.B. hit the charts with his huge single,
"Airplanes"
. B.oB. had his first hit record and fans all over believed the song was an all-around classic. That is, until Eminem appeared on
the remix
. Pushing forward like a lyrical machine, Eminem gave fans a personal and intricately written verse on his struggles to the top. Simply put, Em put on a hip hop clinic and B.o.B. paled in comparison. Now with reports of Em's work on Dr. Dre's
Detox
, it remains to be seen how much more Em has to give.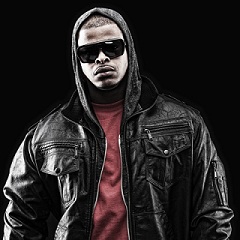 "Sex To The Beat" is another example of his creative force. His rapid, stop and go delivery meshes so well over the best, you would think his voice is part of the production. The prior comment is usually something you would hear about a Tech N9ne verse and no one else. Kutt Calhoun has nailed down the logistics of a good sixteen bar verse. There's very little to stop the Kansas City Chief now.
A good MC will always be able to strip down their talents and focus them into a good guest feature. It's just the name of the game. If you aren't the best, someone else will be. These MC's, like many others, have what it takes to craft a verse and leave their mark on a song. The skill, the charisma, the wit, and the hunger. If you're not hungry enough to step up to the plate, prepare to get eaten alive.
-Victor Sandoval, Strange Music Blogs Contributor