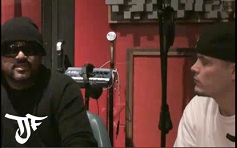 Since it's inception, Kabosh has become an entity all its own. Fans have waited patiently for developments to be made on the side project spearheaded by Tech N9ne and Krizz Kaliko. In recent months, Tech N9ne confirmed that the project had finally landed a live band. Dirty Wormz, based out of Austin, TX, was handpicked by Tech to round out the line up. In this great video interview, Smackola of Dirty Wormz sits down with TrueJuggaloFamily.com and explains the origins of Kabosh.
Smackola opens up about the initial plans for Kabosh and how it is that Dirty Wormz came to be part of the project.
Click here to watch the full interview or scroll down below.