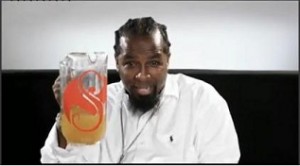 Pop champagne, pour out the forty ounces, and slam those shots back. There's nothing like a good drinking song to help fuel the night. Tech N9ne fans know all about drinking and good music. Recently, Strange Music reported that Tech's famous single, "Caribou Lou", was just a hundred thousand downloads shy of reaching gold status. The song, named after Tech's potent mix of alcohol, has been a smash since its release in 2006. Just like the famous drink, the song combines all the right elements. From the heated production to the mesmerizing hook, Tech's often-hilarious take on mixing his own drink proved to be just what fans wanted. With all of the success of Tech N9ne's "Caribou Lou", it's time to take a look back at the intoxicating history of hip hop's greatest drinking songs.Hangover inducing jams are nothing new to hip hop. In the early-Nineties, tracks about malt liquor and mixed drinks were pretty standard fare. Riding off the success of "Fight For Your Right", The Beastie Boys hit the airwaves with their own mixed drink, "Brass Monkey". The funky, upbeat track became a hit with memorable lines like: "Cause I drink it anytime – and anyplace/When it's time to get ill – I pour it on my face/Monkey tastes Def when you pour it on ice/Come on y'all it's time to get nice". The drink itself, often consisting of orange juice and beer, saw a rise in popularity as well. In 1989, Tone Loc took things one step further and created a single that combined alcohol and a sexual appetite. His hit, "Funky Cold Medina", told the tale of a mysterious aphrodisiac given to him by a bartender after numerous failed attempts at meeting women. Much like "Brass Monkey", "Funky Cold Medina" kept things humorous and light for all audiences. Soon after, bars across the nation began mixing their own drinks and labeling them as Funky Cold Medinas.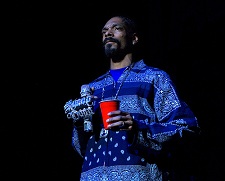 Perhaps no other song in the nineties was more of a drinking anthem than Snoop Dogg's
"Gin And Juice"
.
The G-Funk-inspired track introduced Snoop's ability to lay down smoothly melodic flows that he still uses to this day. With a devil-may-care attitude, the song's hook laid everything out: "Rolling down the street, smoking Indo, sippin on gin and juice". Complete with forty ounce bottles and enough drinks to supply a fraternity, the video for "Gin And Juice" became a favorite on networks like MTV and BET. Thanks to help from Dr. Dre, "Gin And Juice" was eventually nominated for a Grammy in 1995.
In more recent years, the change in drinking trends has shown some influence on the creation of songs. There is no space for chilling out and enjoying a drink, only getting drunk like there's no tomorrow. The last decade brought out a flurry of hard hitting liquor infused bangers. Busta Rhymes brought a little bit of class with his mosh-worthy "Pass The Curvoisier Pt. 2". On the other end of the spectrum, J-Kwon aimed to crash house parties with 2004's 'Tipsy". Speaking of house parties, Asher Roth splashed on to the scene in 2009 with the end all be all fraternity anthem, "I Love College". The ode to higher education could almost be considered a throwback to the days of the Beastie Boys. Opting for a much more laid back approach, Asher Roth's single became the voice of beer drinkers everywhere. Not one to be phased by alcohol poisoning, Lil Jon dropped the mother of all brain cell killers in the form of "Shots". The fast-paced club hit has inspired numerous drinking games based off its repetitive hook. Nothing like a night to remember…or not, in this case.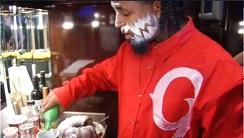 Even with the release of
"KC Tea"
, Tech N9ne fans are still parting to the classic "Caribou Lou". You'll be hard pressed to find a single Tech N9ne concert where there aren't cups overflowing from the combination of 151 rum, pineapple juice, and Malibu. Strange Music fans have their own drinking anthem, and they carry it everywhere from their ringtones to their iPods. "Caribou Lou" is now quickly approaching its gold certification, as fans of all walks continue to enjoy the theme song for Tech N9ne's signature mixed drink. Remember, we
don't stop til the cops come
.
Fans can enter the Strange Music "Caribou Lou" Gold Contest by clicking
here
.
-Victor Sandoval, Strange Music Blogs Contributor