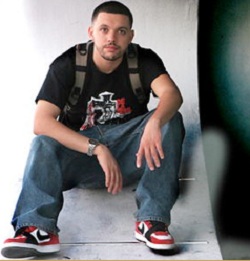 Since news first broke about their signing with Strange Music, ¡MAYDAY! has been at the center of the spotlight as fans everywhere discover their unique blend of rock and hip hop music. Hard to define and always explosive, their music continues to evolve and with their Strange Music debut slated for release in 2012, ¡MAYDAY! is preparing to turn the Strange Music world upside down.
Following their lengthy trek on the All 6's And 7's Tour, ¡MAYDAY! has been locked inside the studio recording their brand new album. Looking to get some insight on the new music, we recently spoke with ¡MAYDAY!'s Wrekonize about the recording process. Wrek shared some behind the scenes info on the album and gave us a first hand account of what it's been like since their time off the road.
It looks like you haven't left the studio. What have you guys been working on?
We're literally locked up living in the studio right now. The main focus has been finishing the album. We had a lot of it recorded before we went on the Tech tour. We're working on it now, just finishing it up. We got like twenty tracks that we're going to have to shave down to like thirteen or fourteen. We've got skits that we still have to do for it, and then we should be wrapped up.
What kind of sound are you looking for on the new album?
On the last album, that was our first real foray into bringing a lot of guitars into the records and we were really heavily relying on more up-tempo records. This album we're definitely trying to be a little bit more varied in the speed of all the different tracks and try to at least keep it balanced. We definitely have some slower and chilled out records. Just kind of trying to make it more balanced, a couple more balanced tracks that we didn't have on the first album. It's definitely a shorter album, the last album was super long so we wanted to make this one a little bit more concise and compact.
Do you have any guest features on the album?
We definitely have a record called "Last Days" with Krizz Kaliko. That is fire, that is super dope. We actually recorded his verse while we were on the tour. That's for sure. Definitely going to have Tech on it, it's in between two joints right now. We have Ace Hood on there. We have three or four that are pending, as we're going right now, but I'm not sure if we're going to go all the way through.
Ace Hood is on the album?
Yeah, he's on a track called "Highs And Lows", we recorded it a while ago. We released it as a single before we came to Strange. We wanted to include it on the album, we wanted to give that song some more life and expose it to new people.
Being on Strange Music now, do you think that will affect the album's sound?
It will in the end process because we're going to mix and master with the people that Strange works with. We're going to have it mixed by the dude Ben who works on all of Tech's stuff, and he's ridiculous, he's super dope. I think the end result, our overall sound is going to sound way bigger, the bass is going hit a lot harder and the overall mixes of the record are going to sound better. The recording process is still pretty much the same as we've done it before. We're pretty internal with our recording, so we didn't change much in that regard.
Be sure to check back for more from ¡MAYDAY! and follow Wrekonize on Twitter: @Wrekonize.
-Victor Sandoval, Assistant Editor Strange Music
Follow Victor on Twitter: @VicMSandoval