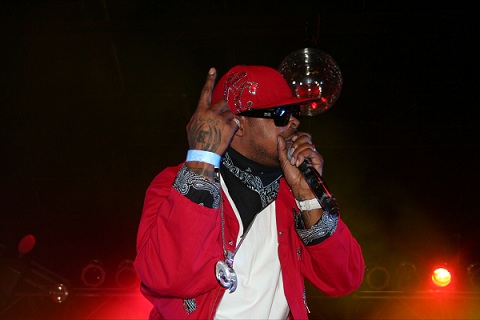 Even The Lost Cities Tour couldn't keep the Strange Music crew from getting into the Halloween spirit. With everyone in Strangeland celebrating Halloween, we decided to holler at everybody's favorite Red-Headed Stepchild, Kutt Calhoun. The Kansas City Chief gave us an exclusive interview and shared his thoughts on the holiday and what it's like to see fans imitate his look for Halloween.
What are you doing for Halloween this year?
Halloween, I think we're going to be in Portland. We got a show there on the 30th, but the next day is a day off. We're going to spend the day off in Portland. Me, I'm going to go get with my dude DJ Chill and I'ma dress up as a rapper. I'ma be a rapper for Halloween. I'ma drink and I'ma listen to music, I'ma go out and have fun. I'ma dress up like a rapper, put a big ole chain on. The Strange Music chain got all this ice in it n' shit. Throw on these fancy little sneaker shoes that I got with these jeans and this dope shirt. I might throw my dookie rope on too, I got a dookie rope. I might put my dookie rope on, my black frames or my red frames with the clear lens, and a Kangol hat. I'ma go out as LL Cool J, that's what I'ma do.
If you had to dress as someone other than that, who would it be?
I would dress up as Wolverine. I feel like Wolverine on the inside. A mad, bad mutherfucker that's trying to figure shit out or get my just dues, but if you rub me the wrong way or fuck with me, I got these inner claws that's gonna come out. That's it, yeah Wolverine. That's how I feel.
What are your thoughts on Halloween in general?
Halloween, I think Halloween is a cool entertaining day for the children. Now that I'm older, I don't necessarily trip off of it, but I like how the kids get to have fun and go trick or treating. Halloween , it's all about the kids for me. Getting to participate and going door to door, going to these malls. Just having fun, watching their faces, getting to dress up and be free. That's basically it, I feel like it's for the kids.
Growing up you probably had people or characters that you wanted to be for Halloween. How does it feel to now look at the fans who go out and dress up like Kutt Calhoun, Tech N9ne, and Krizz Kaliko?
It's a crazy feeling, it's flattering along with still shocking. I still look at myself like, I'm just Kutt Calhoun, I'm me. To see somebody with the doo rag or wearing the bandana or the same pullover hoodie jacket like I done had at the shows, just seeing them dress up and look like you, it's flattering, it's great, I love that. At the same time, I look at it like, "Boy, I don't get it. This is crazy." I'm so humbled with all this because I believe you need to remain humble and stay grounded and remember where you come from through all this because it can be taken away at any given time. That along with the type of person that I am, a down to earth person, it's flattering. It's like, wow, little ole me or whoever I think I am, is somebody they want to emulate , copy, or be like. It's flattering and it's shocking at the same time.
-Victor Sandoval, Assistant Editor Strange Music
Follow Victor on Twitter: @VicMSandoval