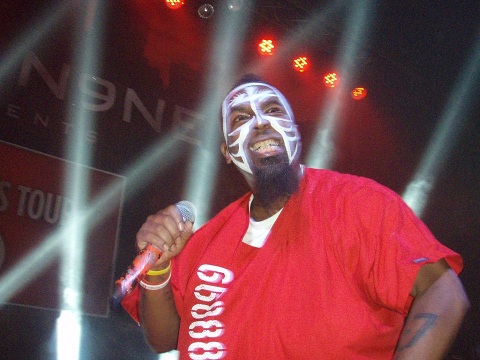 The Lost Cities Tour featuring Tech N9ne has officially begun. The nationwide tour will be hitting venues and cities with the best live hip hop show this fall. With performances from Flawless, Jay Rock, Kutt Calhoun, and Krizz Kaliko, fans will be getting the very best in independent music. Those who choose to attend VIP will also be given the opportunity to meet all of the artists during an hour long meet and greet session.
As the tour begins its path of destruction across the country, many fans may still be wondering what is so special about this particular outing. We have compiled the top 5 reasons you don't want to miss out on The Lost Cities Tour.
5) Brand New Stage Set – Like every Tech N9ne tour, The Lost Cities Tour has its own special theme that comes complete with a brand new set on stage and lights to match. Only the absolute best makes it on tour and fans can rest assured that nothing else can match the theatrics of a Tech N9ne show.
4) Surprise Guests – Tech N9ne shows are nototious for bringing out everyone, including some of the biggest names in independent music. On the first stop of The Lost Cities Tour, Ces Cru performed while Strange Lane's Young Bleed and independent MC Mac Lethal could be seen in attendance. You never know who is going to show up to a Tech N9ne concert!
3) The VIP Swag – Strange Music's VIP packages offer fans some of the most unique and exclusive items that have ever been offered. The Lost Cities Tour VIP package is no different as it gives fans exclusive collectibles not available anywhere else, including: Strange Music CD wallet, Strange Music water bottle, Strange Music drawstring backpack, and more!
2) The Line Up – The Lost Cities Tour features a line up like never before. Opener Flawless will be joining the tour for his first outing with Strange Music, meanwhile veterans Jay Rock, Krizz Kaliko, and Kutt Calhoun will be smashing through crowds with hits like "Hood Gone Love It", "Anxiety", and "Bunk Rock Bitch". There's nothing like a stacked line up of independent power.
1) Brand New Songs – Missed your favorite song at the last tour? Fear not, every Tech N9ne tour features a brand new list of live songs and with All 6's And 7's on everyone's playlist, fans can expect to hear more from Tech's latest album. This is your chance to experience a completely new Tech N9ne performance, don't be left out!
Click here to purchase tickets and VIP packages to The Lost Cities Tour.