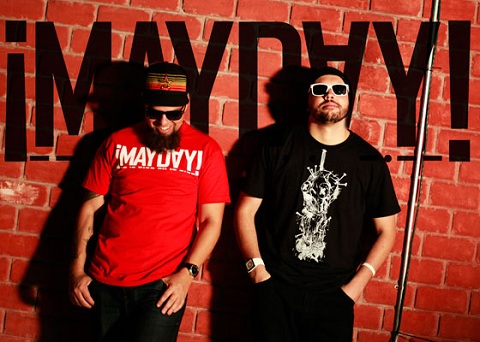 Like a six headed hydra, ¡Mayday! attacks the musical landscape from all angles and now prepares to drop their unique Miami bred sounds on Tech N9ne Collabos Welcome To Strangeland. Making their first official appearance on a Tech N9ne album, the group will be joining the rest of Strange Music in one of the biggest collaborative efforts in the history of the label.
Consisting of Wrekonize, Bernz, Gianni Cash, Plex Luthor, NonMS, and LT Hopkins, the group built a strong following in their homebase of Miami with their reputation for high energy performances. Making an impression on Tech N9ne, ¡Mayday! opened for the Kansas City King in what turned out to be their try out for Strange Music. With a stellar performance full of choreography, instrumental break downs, and tight execution, their well earned spot on the independent label was cemented.
While Wrekonize and Bernz handle vocals for the band, ¡Mayday! proves to be much more than just an average collective. Members Plex Luthor and Gianni Cash help create much of the band's sound with collaborative production credits that include tracks like the Del The Funky Homosapien assisted "The Ride". In the summer of 2011, the band made their first impact with Strange Music fans as they embarked on the All 6's And 7's Tour. The summer long tour would serve as a huge platform for the band, who was able to directly connect with fans everywhere while promoting their Stuck On An Island album. Wrekonize even created a buzz online when he released his remix to Tech N9ne's "Worldwide Choppers".
As the band continues to work on their Strange Music debut, they have also confirmed their contributions to Tech N9ne Collabos Welcome To Strangeland. With two production credits on the album, Wrekonize and Bernz will also lend their voices to three brand new collaborations. Plex Luthor's credits include the tentatively titled tracks "The Noose" and " Retrogression". Looking to turn Strangeland upside down, ¡Mayday! will be breaking down all barriers on the latest Tech N9ne Collabos release.
Click here to pre-order Welcome To Strangeland.