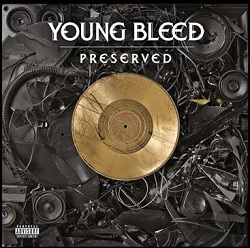 Young Bleed has officially arrived with his Strange Lane debut, Preserved.
The brand new album features 18 slamming tracks that are sure to keep fans leaning slow with a Southern swagger. With appearances by Tech N9ne, Brotha Lynch Hung, and Juvenile, Preserved gives Strange Music fans a taste of that classic Louisiana hip hop that rose to popularity in the mid to late 90's. Updated and rejuvenated, Young Bleed takes it to the streets on hits like "Boot Up", "From Da City", and "Wut'z Up". Songs like "Wall Uh Fame" show Bleed's growth as an artist and provide Preserved with solid singles. As fans everywhere throw Preserved into rotation, we would like to know what you think is the best track from Young Bleed's debut.
Vote below for the best track from Preserved.


(polls)