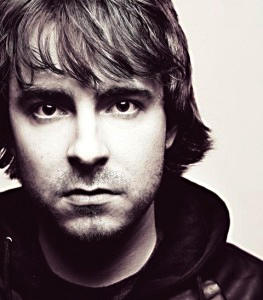 The mastermind behind hits like "He's A Mental Giant" and "Worldwide Choppers", Seven has long been an instrumental piece of Tech N9ne's popular sound.
In part one of our interview with Seven, he discussed the process behind producing Welcome To Strangeland and shared his personal feelings on the project. For part two, we asked Seven to speak on Tech N9ne's growth as an artist and how that has manifested itself on Welcome To Strangeland. Reflecting on all of his work with the Kansas City King, Seven opened up about his admiration for Tech and his ability to change with every album.
Based on that Strangeland preview that Tech N9ne gave, it sounds like his flow is somehow still progressing. Do you feel the same way about your production?
Yeah, I do feel that way. I mean, with every album that I do with Tech, it always forces me in a way to step it up a little bit production wise. Even on Strangeland, I really took a lot of time with these tracks to make sure that they were surpassing what we did with All 6's And 7's.
Do you feel like expectations were raised after All 6's And 7's?
Yeah, everybody's watching now. Everybody's listening and the eye is more on Strange now that it's ever been. I think people are expecting something out of it. I definitely think that the expectations were there.
How do you feel about the progression from all of the artists at Strange Music?
I've been there since Kutt did his second album, I think and Krizz did his first album. I think everybody figured out what lane they're suppose to be in. In the beginning, they were just Strange Music artists, and you couldn't really separate everybody. I think that now, they've figured out their sounds. I know when I sit down to do a beat for Krizz or a beat for Kutt, I know that they can't be alike.
A lot of people would agree that there was a distinct sound in Tech N9ne's music before and after Everready, which you were a part of. Do you think that Welcome To Strangeland is another gamechanger for Tech?
One thing I'll say, I know from working with Tech for so long that when we get done with Strangeland, there will never be another album like Strangeland. When we go into the next one, it's going to change again. I can never really tell where Tech wants to go, but I think everybody is just getting better. Everybody is learning how to step it up with each album.
You mentioned how everyone has gotten better, can you explain in what ways Tech N9ne has gotten better?
Going into All 6's And 7's after K.O.D., when I first started hearing some of the first songs that he was recording for All 6's And 7's, I was really blown away. I was like, "Man, Tech has really stepped it up." Actually, since Bad Season, I think that Bad Season is when lyrically he started to really surpass what he was doing. So far, since Bad Season going into All 6's And 7's, and now Strangeland, he's just gotten better and better, flow-wise and lyrically. I'm just like a Tech fan all over again.
He's still coming up with new flows, whereas a lot of artist stay in the same place, Tech is still inventing.
He's still growing. That's what happens, a lot of artists get stuck with what works for them and eventually after a while, people get bored with it or it just stops working because the time is past that. Tech he just reinvents himself every single time.
Do you have a hypothesis as to what is fueling this growth spurt?
I think that Tech sees now the Lil Waynes are watching and everybody is starting to notice him. The eye is on Strange Music and on Tech now, I think he knows that. I think that makes him challenge himself. I don't think he's in his comfort zone anymore.
Click here to pre-order Welcome To Strangeland.
–Victor Sandoval, Assistant Editor Strange Music
Follow Victor on Twitter: @VicMSandoval