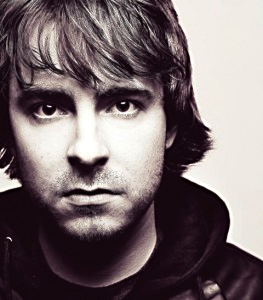 As one of the biggest contributors to the production behind Strange Music albums, Michael "Seven" Summers has helped reinvent Tech N9ne's sound with each and every release.
For Welcome To Strangeland, Seven once again faced the challenge of building a new sound for Tech N9ne's epic vision. With every single Strange Music artist working together, Seven joined the roster for what is said to be the most unique album from Tech N9ne to date. We recently spoke with Seven to discuss his work on Welcome To Strangeland and get his thoughts on the ever evolving sound of Tech N9ne.
How important was it for the production on Welcome To Strangeland to stand out from the past Collabos albums?
From a production stand point, you know, me and Tech talked at the beginning of it. He told me that he wants to make this way different than anything that we've done before. I really think that what kind of stemmed the whole idea for the sound of this project was when we did "He's A Mental Giant", so production wise it sort of picks up in a way where "He's A Mental Giant" left off. Tech wanted this to be real, the word he said was "enchanting". We've never really done anything like that before, it was definitely different from anything we've done before, any of Tech's other projects.
Tech is notoriously picky with his beats. Do you ever feel nervous that he might not like something?
I sometimes feel like, never nervous, but it's really just about when we first start working on a project if it's the exact direction. Sometimes I don't know exactly what he's going after, but after I do a few batches of tracks for him and he starts picking out what he likes, or starts telling me what he likes and what he doesn't like, I sort of get in a groove and I know what to do.
Did he give you any reference tracks as examples of what he wanted?
No, no. The only track that he mentioned right before working on Strangeland was "He's A Mental Giant".
Tech has gone on record to say that this album is all intertwined and flows together in a big way, can you elaborate?
I haven't heard the whole thing front to back, but I know that as we worked on it, Tech kept telling me that he wants every song to go into each other like it's a story. It sort of had to flow together in a way that none of the albums have really done that. We've done concept albums before, but none where even the music by itself could tell a story. That's the idea I think, behind Strangeland.
Was it challenging to put something like this together?
Yeah, it definitely was. Once I sort of figured out the sound that we were going for, staying within that sound, I had to figure out a way to make everything different. A lot of the tracks have a lot of…it's very, very orchestrated . There's a lot of different string arrangements that are pretty intricate. All the songs have this sort of enchanting string orchestra kind of feel to it. The most challenging part was figuring out how to keep using the same sounds, but having each song have a different feel.
Is there a particular track that you were the most excited about?
There's actually one. I think this is probably my favorite beat that I did off of it. It's actually the one that ended up featuring CES Cru, I think Tech might have even dropped a little snippet online. I heard the full song and that one I was probably the most excited about just because I loved that beat so much when I finished it.
If you could have picked the collaborations for the album, who would you have chosen?
I definitely wanted to do one that had CES Cru on it, so that was really dope that he tapped CES Cru to get on that particular track. I wanted to do one that had ¡Mayday! on it. Most of the stuff on the album is all Strange Music artists, a lot of the Strange Music artists I've already done stuff with and was able to collab with, but ¡Mayday! is a new group on Strange that I haven't been able to work with yet. That's somebody that I wanted to do something with on this album.
From what you've heard, what do you think of the album?
From what I've heard it's amazing. I was in the studio with Tech a few weeks ago, right after he finished the tracklist. He showed me all the songs, and I did a lot of the tracks on this. I think I did more on this than what I've done on any Strange album. He was playing me some of the songs and man, what Tech did with some of the songs, amazing.
Be sure to check back next Thursday for part two of our interview with Seven as he discusses the growth in Tech N9ne's music:
"Everybody's listening and the eye is more on Strange now that it's ever been."
Click here to pre-order Welcome To Strangeland.
-Victor Sandoval, Assistant Editor Strange Music
Follow Victor on Twitter: @VicMSandoval