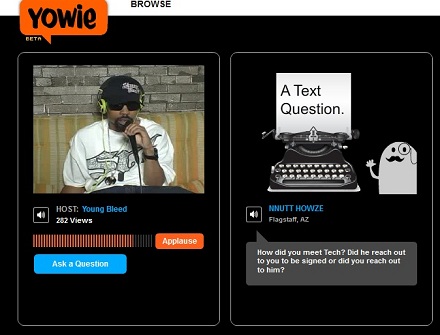 Young Bleed recently interacted directly with fans during a very special live video stream from Yowie.com's headquarters. Joined by Cross Eyed Joe, Young Bleed hosted the live stream for an hour and took questions from fans all over the world. Fans were given the opportunity to speak directly to Young Bleed through their webcams and ask any questions regarding his upcoming album, Preserved.
Watch
Highlights
– Young Bleed confirmed he would have a new music video on the way, possibly "Boot Up" featuring Juvenile
– Spoke on his relationships with Curren$y and Lil Boosie
– Revealed his contributions to Tech N9ne Collabos Welcome To Strangeland
– Discussed his signing to Strange Music and his future plans with the label. Also spoke on the situation with Strange Lane and its relation to Strange Music
-Mentioned that he is already working on his next album with Strange Lane and seeking new collaborations
-Shared the history behind his name, his past career, the meaning behind Preserved, and gave advice to up and coming artists
– Spoke on his time spent with Johnny Richter of the Kottonmouth Kings
Click here to pre-order Preserved.