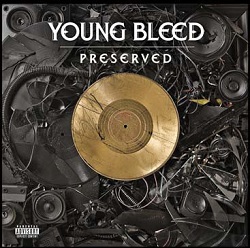 Like a true mobster's tale, "Hurt Nobody" elegantly flows out of Preserved and gives Young Bleed a refined edge.
The cinematic and powerful sounds of "Hurt Nobody" come courtesy of Seven, who brings together an assortment of classical strings and dramatic percussive elements to deliver one of the cleanest pieces of music on Preserved. Taking on the role of mobster, hustler, and street villain, Young Bleed uses "Hurt Nobody" to weave a tale of drug dealing and painful consequences. Bleed's street bred ways have never been so enticing to listeners. Recalling his life in Baton Rouge and all of the dangerous situations he's faced in life, Young Bleed's experience can be felt through his words. Destiny D'Lere Clifton provides the absolutely mesmerizing hook that floats above Seven's production without restraint. While Young Bleed may be keeping his roots Preserved, he finds new life on tracks like "Hurt Nobody".
"Hurt Nobody" is one of those songs to where I'm speaking of coming up from a negative environment, but still I come in peace. Really, I ain't no murderer. "Don't start no shit and there won't be no shit," in simple terms. I don't want to have to hurt nobody and hope anybody trying to hurt me.
Click here to purchase Preserved on iTunes.