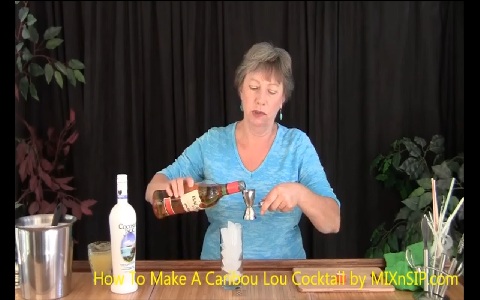 God bless her for trying – Mixnsip.com's Elizabeth Dodwell shows us how to concoct a Caribou Lou as created by Tech N9ne. She reads some of the lyrics from Tech's song which give the ingredients and measurements – "It's like…151 rum…" What's best about this video is her humor, intentional or not. She has NO idea who Tech N9ne is, so she refers to him as Mr. Nine, and at the end of the video, she recommends "…make sure you drink it slowly, you don't need to get anybody pregnant." She even attempts to recreate the song "Caribou Lou" by rapping some of the lyrics, then later apologizing to "Mr. Nine" saying she is "just an old fogey,"- kudos to her for trying.
Now when it comes to the actual drink itself, Ms. Dodwell actually alters the measurements a little – first filling the entire glass with ice – then instead of the 1-1-1 measurement she alters it to a jigger of 151, an ounce of Malibu, and about five ounces of pineapple juice, creating a ~2-1-5 measurement. Even with these alterations, it is still a top-notch drink…just don't get anybody pregnant.
Click here to watch or scroll down below.

Click here to pre-order Welcome To Strangeland.
What did you think of her Caribou Lou recipe? How do you make it? Let us know in the comments below!