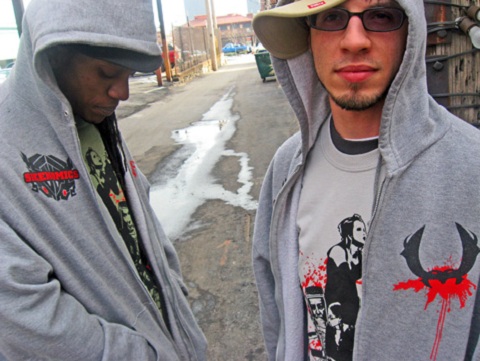 Ready to make Kansas City explode in the hip hop world, the lyrical tag team of Ubiquitous and Godemis is stepping back through the doors of Strangeland to bring fans another collaboration with Tech N9ne and Krizz Kaliko. Tech N9ne Collabos Welcome To Strangeland is just weeks away from release and as the anticipation builds, CES Cru appears to be a hot topic in the Strange Music world.
Seasoned battle MCs, both Godemis and Ubiquitous have been creating music in Kansas City's hip hop scene for years. Once together, they created Ces Cru and began releasing music, which has gained them local success and praise for their focus on lyricism and originality. The duo first made waves with Strange Music fans when Tech N9ne featured them on "Livin' Like I'm Dyin", from his Bad Season mixtape. The collaboration introduced CES Cru to Tech N9ne fans all around the world and proved that they could hang with the best around. CES Cru returned for Tech N9ne's All 6's And 7's and appeared on the Best Buy Deluxe Edition bonus track, "Give It Up". Their exceptional performance on "Give It Up" pushed CES Cru even deeper into the consciousness of Strange Music fans.
With a close relationship now forming between Strange Music and CES Cru, it was only fitting that Ubiquitous and Godemis lace up for Tech N9ne Collabos Welcome To Strangeland. Tech N9ne, Krizz Kaliko, and CES Cru come together for "Unfair", produced by Seven. The yet to be released collaboration stirred up a huge buzz from fans when Tech N9ne released a short snippet online. Bringing wit and creativity with them, Ces Cru looks to make Strangeland their personal playground.
Click here to pre-order Welcome To Strangeland.