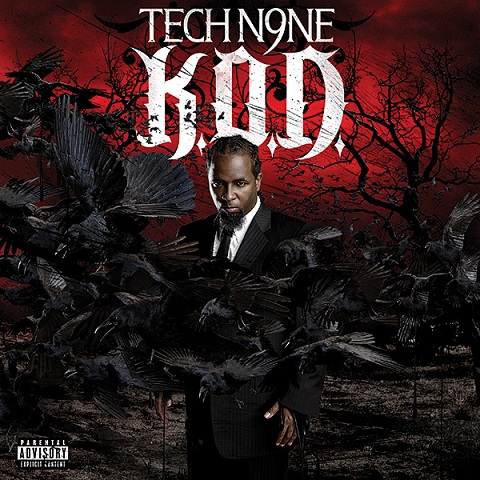 Touted as Tech N9ne's darkest album, K.O.D. was released in 2009 after a series of personal struggles that left Tech in a very grim place in his life. Despite the sometimes morbid content of the album, fans regard K.O.D. as one of Tech's best solo efforts.
The album featured a distinct sound as Tech N9ne sought to take his music into a grittier direction in order to inspire songs like "Demons" and "Killing You". The anger and frustration inside Tech N9ne could be heard mere seconds into the album as "Show Me God" exploded out of K.O.D., giving listeners a taste of Tech's personal vendetta with spiritual beliefs.
Exploring his killer instinct, Tech N9ne kept things tongue and cheek on the narrative "In The Trunk". The track outlined Tech's exploits as he kidnapped a young woman and kept her in the trunk of his car. Things progressively grew darker and more violent with "It Was An Accident" and "Pinnochio". Still, one of K.O.D.'s most shocking moments came with "Horns" featuring Prozak and King Gordy. The collaboration featured all three MCs pulling out some gruesome lyrics, but Prozak and Tech N9ne were no match for King Gordy's controversial lyrics that included lines like:
"But hey I guess his Dad is just as mad,
God woulda never had a sissy for a son, Bet he's regrettin' that!"
The closing pieces of K.O.D. are made up of murder, cult like followings, and the all too real "The Martini" that finds Tech N9ne recalling events that took the lives of innocent people in his life. In the end, K.O.D. did measure up to be Tech N9ne's darkest album. Drawing comparisons to Anghellic, most of K.O.D. was based in reality with a few imaginative encounters from the twisted mind of Tech N9ne. Like the cover of the album, Tech N9ne shrouded himself in darkness and took the crown of King.
Must Listen:
-Victor Sandoval, Assistant Editor Strange Music
Follow Victor on Twitter: @VicMSandoval