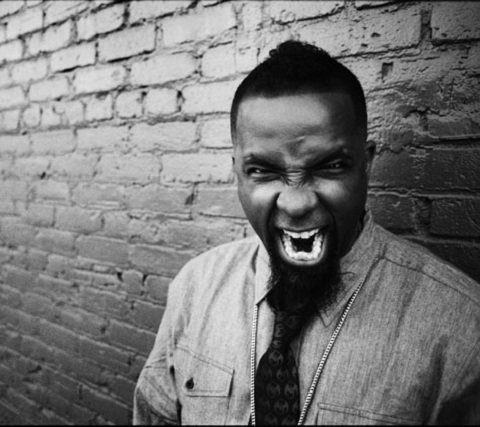 The upcoming release of Tech N9ne Collabos Welcome To Strangeland will mark the fourth installment in Tech's collaborative series. The now beloved series of albums first began with Tech N9ne Collabos Misery Loves Kompany in 2007 and has since grown to be what Tech has called, "My version of a mixtape".
With Welcome To Strangeland on the way, some fans may find that they are unfamiliar with Tech N9ne's Collabos albums. To give fans a brief history lesson, we have compiled a list of tracks spanning all of the Collabos albums that are absolute must haves on every Technician's playlist. From high profile collaborations to classic anthems, it's all here.
1) "Midwest Choppers" – Misery Loves Kompany – The track that started it all. In 2007, Tech released "Midwest Choppers" on his official MySpace page in anticipation of his first Collabos album. The monstrous collaboration brought together some of the best choppers in the Midwest with Tech N9ne at the helm. Joined by D-Loc, Dalima, and Krizz Kaliko, Tech weaved his way through a lyrical showcase of speed and accuracy. With thunderous production by Seven, "Midwest Choppers" rumbled through speakers everywhere and helped establish the Choppers series.
2) "Sickology 101" – Sickology 101 – The title track of Tech's 2009 Collabos album, "Sickology 101" gave fans one of Tech's best and most recognized collaborations. Hip Hop heads everywhere celebrated when Chino XL and Crooked I jumped on the track to bring in some of the strongest wordplay and multisyllabic rhymes in the game. Like a battle cry, the intro kicks off the album and features an impressive verse from the Kansas City King that sees him use melodies, unique inflection, and several tongue twisters to teach a lesson in the study of being sick.
3) "Blown Away" – Sickology 101 – Chronicling two of Tech's most infamous encounters with other artists, this track quickly became a fan favorite for its warning to the mainstream. Every Tech N9ne fan knows how exciting and absolutely stunning Tech's live performances are. Paying tribute to his next level stage performances, Tech stood tall on "Blown Away" and even called out certain haters. With actual events mentioned, this track rightfully earns its place on any playlist.
4) "That Box" – Misery Loves Kompany – MLK marked a unique chapter in Tech's history as he would choose to go with brand new production. David Sanders II provided the synth drenched production behind this sexually aggressive jam. Greed, Kutt Calhoun, Skatterman and Snugbrim, and Krizz Kaliko all dropped in for this posse cut dedicated to that very special part of the female anatomy.
5) "O.G." – The Gates Mixed Plate – Tech N9ne paid the ultimate compliment to his native city with the summer anthem, "O.G.". Titled for his love of the Gates Bar B. Q. restaurant in Kansas City, Tech proudly displayed his appreciation for the city that made him. Produced by Seven, "O.G." slammed with a 90's throwback vibe and was well recieved by radio in Kansas City. No BBQ party should ever go without "O.G." in rotation.
6) "Midwest Choppers 2" – Sickology 101 – Tech N9ne struck back with his chopper elite on "Midwest Choppers 2". Enlisting the help of K-Dean and Krayzie Bone, Tech turned the Chopper sound upside down thanks to production from Youngfyre and Karbon. With a meaner sound and something to prove, all three MCs flew through syllables and perfectly executed flows complete with harmonies. Originally meant to feature Chicago's own Twista, "Midwest Choppers 2" turned out to be a worthy sequel and traces of it can be heard on the intro to "Worldwide Choppers".
7) "KC Tea" – The Gates Mixed Plate – With "Caribou Lou" already a smash hit, Tech made this sequel of sorts as a way to forever establish his love of Hennessy, Sprite, and lemon. "KC Tea" kept the party going on The Gates Mixed Plate and gave the summer of 2010 a new drink recipe to enjoy at Tech N9ne concerts across the nation.
8 ) "Sorry N' Shit" – Sickology 101 – No one could have anticipated the craze that this simple and hilarious catchphrase would spawn. Tech reunited with the 57th Street Rogue Dog Villains for this anthem based on everything from promiscuous women to drunken and wild nights. Fans have come to love this track for its hard hitting production and memorable spots from the Kansas City MCs. Throw on your "Sorry N' Shit" shirt and hit the town bumping this now classic Collabos joint.
9) "Message To The Black Man" – Misery Loves Kompany – In a revealing moment on MLK, Tech addressed his feelings on the lack of diversity in his fan base. Reaching out to the black community, Tech bitterly and emotionally directed this sincerely written plea at all those who had shunned him for being an unorthodox hip hop artist. Showing Tech's ability to tackle real issues and matters of the heart, "Message To The Black Man" stands as one of his most controversial tracks.
10) "Red Nose" – Sickology 101 – In a full on warning shot to the industry, Tech N9ne fired back at critics and the entire industry for never accepting his unique brand of music. Filled with resentment, Tech called out radio stations, TV networks, label executives, and anyone else guilty of treating him like an outcast. The emotionally charged "Red Nose" highlighted the year Tech N9ne was having when Sickology 101 was released. At the top of his independent game, Tech no longer needed major labels on his side.
Click here to pre-order Welcome To Strangeland.
What are some of your favorite Collabos tracks? Let us know in the comments below!
-Victor Sandoval, Assistant Editor Strange Music
Follow Victor on Twitter: @VicMSandoval