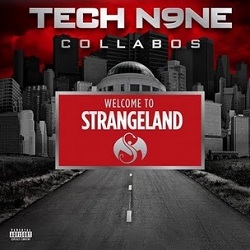 "The Noose" featuring ¡MAYDAY!
The controversial and heartfelt ode to the troops details the struggles of real life and takes on the difficult matter of suicide. With the sensitive subject matter in mind, Tech N9ne recently spoke to HipHopDX.com and cleared up the song's meaning. Tech discussed the making of "The Noose" and the effect the troops at Camp Pendleton had on his writing:
"When I went to Camp Pendleton I left there … I was like pretty fucked up, man. Like, we cry about the littlest shit over here. 'Man, my bus ain't right.' 'This bus is dirty.' 'Aw man, y'all ain't got no chicken? Y'all got all pork ….'We trippin' on shit like that, and these muthafuckas are over there taking bullets, and losing limbs. It just made me see [that] we got it great. We got it great, and these young dudes over there fighting for our freedom, homie. Fighting for other folks freedom over there [too]."
Wrekonize of ¡MAYDAY! also joined in to speak on the origins of "The Noose" and his reservations about the song's morbid tale. Touched and inspired by the stories of so many wounded soldiers, Tech N9ne and ¡MAYDAY! have given listener's a harsh look inside the lives of those who have lost hope.
Click here to read the full interview.
Click here to pre-order Welcome To Strangeland.
What did you think of "The Noose"? Do you think it was too controversial? Let us know in the comments below!
"The Noose" Was Produced By Plex