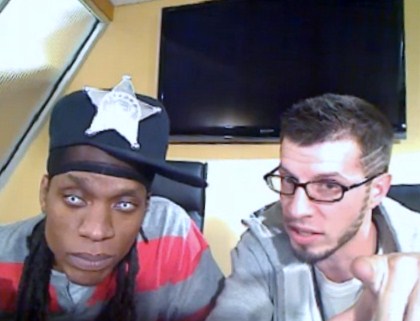 Following the official announcement of their signing to Strange Music, Kansas City's own CES Cru took to UStream for an exclusive broadcast. Taking questions directly from fans, Ubiquitous and Godemis discussed several hot topics including their Strange Music debut album, future collaborations, the Strange Music cypher, and everything in between. Already showing signs of being a fan favorite, CES Cru made it very clear that Strange Music is where they belong.
WATCH

Highlights
– New album for Strange Music is in the early stages of production with a few songs already written. Waiting to work with Seven to start building the album. Album remains untitled.
– Discussed various collaborations inside and outside of Strange Music including: Big Scoob, Prozak, Tech N9ne, Brotha Lynch Hung, Krizz Kaliko, ¡MAYDAY!, Royce Da 5′ 9″, Ludacris, E-40, Odd Future, Immortal Technique, and XV.
– Reflected on their first meeting with Tech N9ne after opening for Devin The Dude in Kansas City
– Expressed their interest in participating in a Strange Music cypher – "I think we would have a great place in the Strange Music Cypher."
– Ubiquitous updated on his mixtape, Matter Don't Money, and confirmed appearances by Irv Da Phenom and Mac Lethal.
– Touched on the Tim Tebow phenomenon – "Don't question Tebow."
– "Wait until you see what we do this year, it's going to be fucked up."
Did you tune in to watch the UStream?

What do you think about CES Cru's plans for 2012?
Let us know in the comments below!