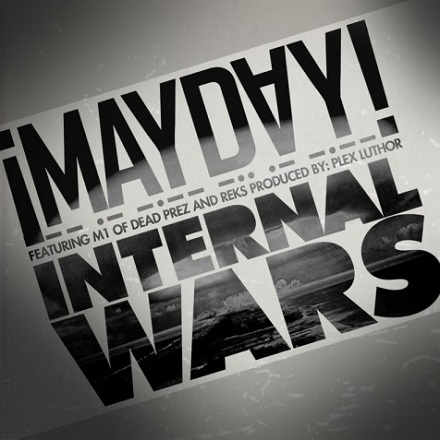 ¡MAYDAY!'s most recent single has proven to be a smash hit with hip hop heads everywhere. Released just last week, "Internal Wars" features the legendary M1 of Dead Prez and Reks teaming up with ¡MAYDAY! for a sinister look at what else, the war inside. Produced by Plex Luthor, the track quickly became a favorite with visitors on DJBooth.net and has managed to take the coveted #1 spot on their Top Independent Hip Hop Chart. Knocking off Skillz' "2011 Rap-Up", ¡MAYDAY! also stands above singles from Mac Miller, Saigon, and Planet Asia.
With Take Me To Your Leader on the way, ¡MAYDAY! is set on taking over 2012 – don't resist.
Click here to listen to "Internal Wars" on DJBooth.net.
What did you think of "Internal Wars"?

Do you want to hear more from ¡MAYDAY! and M1 of Dead Prez?
Let us know in the comments below!