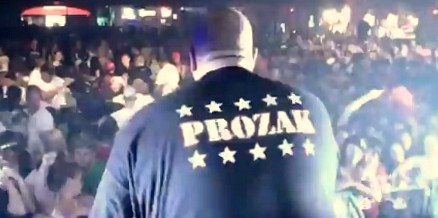 There's nothing quite like a wall of people stampeding towards you as you do your best to hang on for dear life. That's the experience fans can expect from seeing Strange Music's Prozak live on the "Hostile Takeover 2012" Tour.
The emcee known for inciting outrageous moshpits is hitting the road once again and with the historic tour set for 90 shows in 99 days, fans are in for a hell-ride unlike any other. In this exclusive footage from the Strange Days Tour 2010, viewers get a firsthand look at what happens when Prozak commands an entire crowd in Tulsa, OK to split down the middle and then race towards each other. With bodies flying every which way, Prozak's live performance is every bit as twisted as his music. Just remember, when Prozak hits the stage, nobody is safe.
Click here to purchase VIP packages to Tech N9ne's "Hostile Takeover 2012" Tour.
WATCH

Have you ever seen Prozak live?
Let us know in the comments section below!