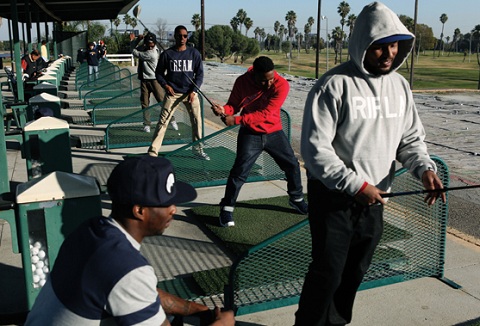 The West Coast collective known as Black Hippy has quickly become one of the most revered group of emcees on the indie scene. Boasting a roster made up of Jay Rock, Kendrick Lamar, Ab-Soul, and Schoolboy Q, the group is changing hip hop's perspective on real street music.
Like a Voltron of sorts, all four emcees bring their own unique background and personality to Black Hippy, making the music reflect a different side of West Coast living. TheFader.com has published a four page feature on the TDE juggernauts and their rise to success, both individually and as a group. Following the young pack of emcees over the course of a few days, the feature gets a deeper look at the artists responsible for some of the sharpest music dropping today. Speaking on his early days, Jay Rock shared a few words:
"I was one of those young cats and knuckleheads that was hard headed, that didn't listen," he explains. "[Top Dawg] locked me up in the studio and I've been there ever since."
With Follow Me Home still ringing in people's heads, Jay Rock now looks to join his fellow Black Hippy members in taking the New West to the top.
Click here to read the full feature.
What did you think of the feature?
Do you follow Black Hippy's music?
Let us know in the comments section below!