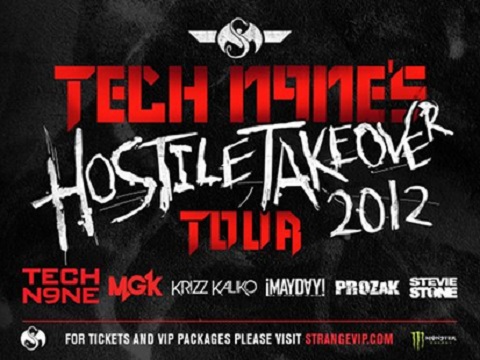 Tech N9ne's "Hostile Takeover 2012" Tour is shaping up to be the most exciting tour this summer. With stops all around the country including South Florida, Tech N9ne will hit the road with Cleveland's Machine Gun Kelly and Miami's own ¡MAYDAY!
The Broward Palm Beach New Times blog has published a new feature on the record breaking tour, set for 90 shows in 99 days. Highlighting the rock mentality of Tech N9ne and Machine Gun Kelly, the feature also shines the spotlight on Florida's native sons, ¡MAYDAY! With the group preparing to hit South Florida's Pompano Beach alongside Tech N9ne and Strange Music, the blog caught up with ¡MAYDAY!'s Bernz for a quick word:
"'Prepare not repair is the motto,' says the group's Bernbiz. 'Lots of water, healthy food and sleep — all of which are very hard to come by on tour.'"
Already hard at work in anticipation of their 3/26 release, Take Me To Your Leader, ¡MAYDAY! will be just one of many explosive acts that fans can expect on the historic tour. Don't miss out on Tech N9ne's "Hostile Takeover 2012" Tour!
Click here to read the full feature.
Are you headed to Tech N9ne's "Hostile Takeover 2012" Tour?
Are you excited to see Tech N9ne and ¡MAYDAY!?
Let us know in the comments section below!