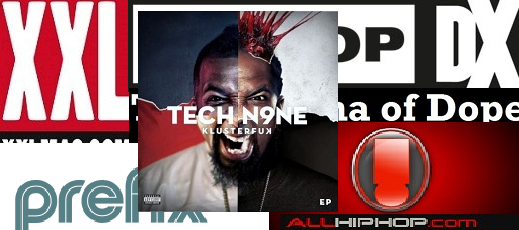 The official pre-order of Tech N9ne's KLUSTERFUK recently went up and with it came the added bonus of a preview track, "Blur", featuring ¡MAYDAY!'s Wrekonize.
The bouncy and grungy track was also produced by Wrekonize, giving Tech N9ne a brand new direction for his blackout-inducing anthem. It didn't take long for the web to catch on to the buzz as several websites including XXLMAG.com, HipHopDX.com, AllHipHop.com, TheDharmaOfDope.com, and PrefixMag.com all posted "Blur" just a day after the track was given as bonus for pre-orders. With the promise of a completely different sound from Tech N9ne on KLUSTERFUK, listeners everywhere are more excited than ever to see what happens when ¡MAYDAY! collides with the King Of Darkness.
Click here to pre-order Tech N9ne's KLUSTERFUK EP.
What do you think about Tech's new sound on "Blur"?
Did you like Wrekonize's production?
Let us know in the comments section below!