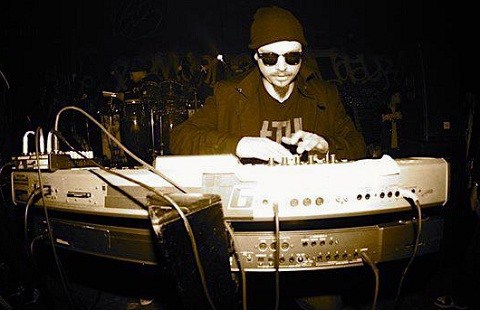 On Tech N9ne's Welcome To Strangeland, fans got a first taste of what can happen when The Mental Giant mixes with the unique talents of ¡MAYDAY! Now, with KLUSTERFUK nearing its official release, listeners are once again bracing themselves for a one of a kind ride on the collision course between Tech N9ne and the Miami group.
As the excitement and buzz continues to build for Tech N9ne's latest EP, we decided to catch up with ¡MAYDAY!'s Gianni Cash for a bit of insight on the project. Having had a large role in the production process along with Plex Luthor and Wrekonize, Gianni Cash recalled what it was like to fire off fresh new music to the King Of Darkness:
"We submitted like 80 tracks for KLUSTERFUK. We were finishing our album while we were making tracks for KLUSTERFUK. At any given point, any of the tracks that were made for KLUSTERFUK could have ended up on Take Me To Your Leader. It's cool how KLUSTERFUK has been intertwined with that album because it's really an extension of Take Me To Your Leader with Tech N9ne on it. The majority of our record was already pretty much done. We were still making tracks though. We were on the homestretch and we were like, 'Let's make as much music as we can and see what works.'

While that was happening, we had compiled tracks that we made and we just sent them. The first batch was something like 38 tracks. It didn't really affect anything on our end though. It was like, 'This is the work. If he likes it cool, if not, then he doesn't.' There were no real hard decisions. We were obviously sending beats that were blank. There was one beat that was already recorded over, vocal wise. I had brought in a beat and Bernz really liked the beat, it's called '20/20′, it's on our record. The day before we sent the first batch of tracks, they had recorded the vocals on '20/20′ and we didn't know if it was going to make Take Me To Your Leader, so I sent the beat anyway. Tech didn't go for it, but it was cool because we got a dope ass song out of it. That was the only one where we were like, 'Oh, we got some vocals on it. If he picks it, we're going to have to do something else with the vocals – like a remix.' At that point, you're just working on auto-pilot and you're just making beats to send. Whatever works at that point. Anything for Tech N9ne, anything for Tech."
Click here to pre-order Tech N9ne's KLUSTERFUK EP!
–Victor Sandoval, Assistant Editor Strange Music
Follow Victor on Twitter: @VicMSandoval
Are you excited to hear ¡MAYDAY!'s production on KLUSTERFUK?
Have you placed your pre-order?
Let us know in the comments section below!