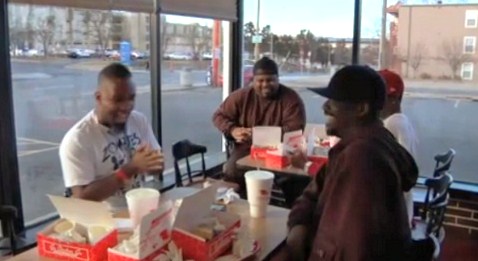 As the reigning king of Kansas City, Tech N9ne knows all the best places to hit for some good food. Cameras followed Tech N9ne as he gave MTV POSTED an exclusive tour of his favorite joints in Kansas City. From one barbecue spot to another, MTV POSTED got a one of a kind guide to Kansas City eats.
The latest exclusive video to feature Tech N9ne has the Kansas city native bouncing through several of his favorite restaurants in town. First, Tech N9ne and the 57th St. Rogue Dog Villains hit Go Chicken Go for a full on feast. Later, Tech runs down a brief trip to Gates Bar-B-Q, which he named an entire album after – The Gates Mixed Plate. Tech finishes his tour with a visit to Fiorella's Jack Stack Barbecue, another barbecue restaurant that he admits to only have known about recently.
Take a trip through Kansas City with Tech N9ne and stay tuned to MTV POSTED for more!
Click here to watch.
What did you think of the new video?
Have you ever visited any of those places?
Let us know in the comments section below!