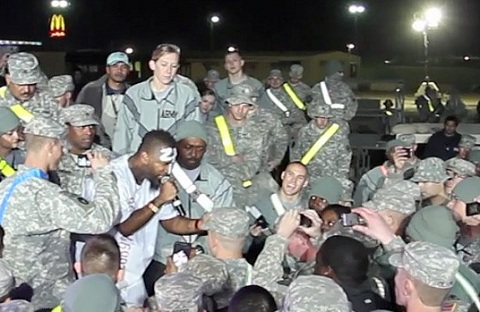 Inspired by his visit to Camp Pendleton and "The Noose", Tech N9ne made history this past December when he visited US troops in the Middle East as part of his first ever USO Tour. Following his return from the trip, Tech N9ne sat down wit USO.org for an insightful interview on his emotional and significant journey to perform for the brave men and women in the US military.
Speaking on his meaningful experiences, Tech N9ne touched on what it was like to see the region for the first time and explained what it was like to take the stage in front of the troops:
"I knew that these kids were from everywhere and me being who I am, I go everywhere. These people knew who I was and it made me feel good. I'd be back stage and test them. We gave them a great show. I went in the crowd with them. It was a wonderful feeling that they may not know about Tech N9ne and maybe some listened to country (music) and yet still loved the show and got me.

What I'm used to is, newcomers coming to our show. You don't have to know our music to enjoy our show. That's the upside to Tech N9ne. Feel the energy. And that's the blessing we have. And that means they'll come back. And they'll bring friends and say 'Watch this.' "
From performing with an injury to debuting "The Noose" live in front of hundreds of troops, Tech N9ne's USO tour trip was a testament to the impact the men and women serving this country have had on the Kansas City native. As for making a return, Tech N9ne made his intentions clear:
"Whenever they call up on me, I'll be there."
Click here to read the full interview.
Watch highlights of Tech N9ne's USO Tour below.

What did you think of Tech N9ne's comments?
Have you watched his performances from the USO tour?
Let us know in the comments section below!