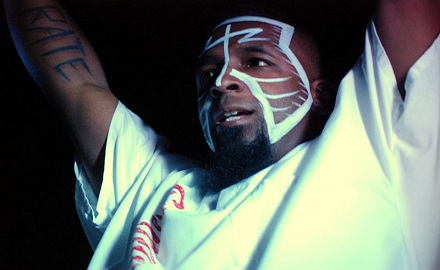 Tech N9ne is just days away from making history as his record-breaking "Hostile Takeover 2012" Tour prepares to sweep across the country.
With fans everywhere excited to catch the indie king live, Parle Magazine recently sat down with Tech to briefly discuss his origins, the new Machine Gun Kelly collaboration, and the upcoming tour. Tech also went on to speak about what it is that fuels him to take on such a massive tour:
I've always said 'if you want to be the president of Hip Hop you have to get out there and politic.' You have to grind and show people you are real, genuine. You can't be distraught if only 7 people show up at your show, you have to keep at it and keep coming back, building your fan base. We all knew Obama was not gonna be able to sit around and win, he had to get out there and touch the people.
Dominating the indie charts with his latest KLUSTERFUK EP, Tech N9ne now aims for the longest tour in rap history along with Machine Gun Kelly and his Strange Music roster.
There's only one road to the hip hop presidency, and it begins with the "Hostile Takeover 2012" Tour.
Click here to read the full interview.
Will you be headed to the upcoming tour?
Let us know in the comments section below!