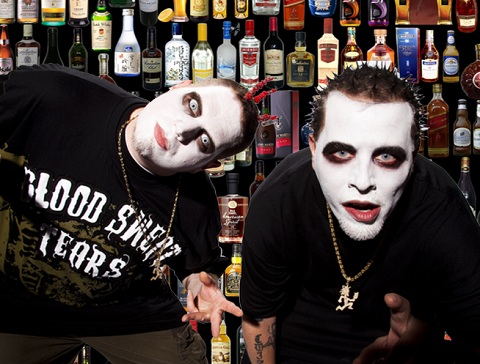 With Krizz Kaliko's Kickin' & Screamin' ready to hit speakers everywhere, fans are buzzing over the album's impressive line up of guest features, which includes two separate appearances from Twiztid.
When Twiztid joined us on the Strange Music Podcast for a hilarious interview, we took advantage of the opportunity and asked both Jamie Madrox and Monoxide to share some insight into their collaborations on Kickin' & Screamin'. Before the conversation veered off into bacon flavored Vodka and hangover remedies, we did get some info from the demented duo.
Kickin' & Screamin' is coming out, you guys are featured on two separate tracks. Krizz Kaliko has been telling everyone that he has never heard Twiztid rap like this.
Monoxide: I don't know what happened because we got calls from Krizz, from Travis, from Prozak, from Tech, from Tech's next door neighbor, from Travis' great aunt, from fucking Krizz Kaliko's cousin – everybody is like, "Man, I cannot believe what ya'll did on this record." We're just like, "Well, that's just what we do."
Madrox: We were like, "Is that okay? What'd we do?"
Monoxide: So yeah, I agree. Whatever it is that we did, they are just fucking fantastically thankful and gratuitous.
Madrox: All the while, we're just happy to be here. That's awesome. We're glad they love it as much as we love doing it, for real.
"Dixie Cup" is one track on Kickin' & Screamin', but you guys did another one that the fans aren't so familiar with. What can you tell me about that one?
Monoxide: The other feature is a little more serious. I won't say "wicked shit" serious, but it's just deep. It's more in tune with what's going on in the world right now, you know what I mean? As opposed to "Dixie Cup", was our party shit. This song lets you know why we are the way we are and how we got to the point that we are.
Having done "Dixie Cup", the party anthem, are you guys big on drinking?
Monoxide: Jamie is an alcoholic.
Madrox: I'm the number one alcoholic of the world.
Monoxide: I don't drink myself, like that. I go out every now and then and we'll get blew back, but yeah, Jamie is a full on alcoholic.
Madrox: At shows when you give me handfuls of weed, I give it to Monoxide.
Monoxide: And when you give me bacon flavored Vodka, I give it to Madrox.
Madrox: That's right, but don't tell nobody that. I like it better when they think that I have the weed and I don't give it to Monoxide and I smoke it all to myself like a little greedy squirrel hoarding it, stuffing it in my tree.
You're going to end up with handfuls of bacon flavored Vodka.
Madrox: Yeah! Bacon flavored vodka rules man, I'm telling you. That's like a rarity, you gotta go to the far Norwegians or France or some shit and come back on a gondola with that shit. That shit is rare.
Monoxide: Or Meijer's liquor section (laughs).
Madrox: Well dammit yeah, I was trying to make it sound fancy. Notice the pinky out when I was saying it.
Monoxide: His pinky was out.
Then I guess I should direct this to Madrox, do you have any hangover remedies you can share with us?
Madrox: Believe it or not, I know it's going to sound like the stupidest shit in the world, but I swear to you this is true as fuck, exercise.
Monoxide: Nobody wanted to hear that shit!
Madrox: Listen, I've perfected it. You get blew out, right? You wake up, you're sick. I mean something repetitive like riding a bike or a treadmill. Sweating, seriously, that's a key. I swear to you. You close your eyes – obviously don't ride a bike outside because you'll run into a car. So you gotta be indoors on some sorta stable machinery, but you close your eyes and you just sweat. I promise you, twenty or thirty plus minutes, you get off of that shit, you take a shower you're like, "Let's go drink." You're fine!
Monoxide: See? Like a real alcoholic.
Madrox: I'm talking puke green and you're fine. Real shit.
-Interview conducted by Victor Sandoval (@VicMSandoval)
Click here to purchase the Kickin' & Screamin' iTunes Deluxe Edition, including two bonus tracks not available anywhere else!
LISTEN BELOW!

Are you excited to hear more from Twiztid on Kickin' & Screamin'?
Let us know in the comments section below!