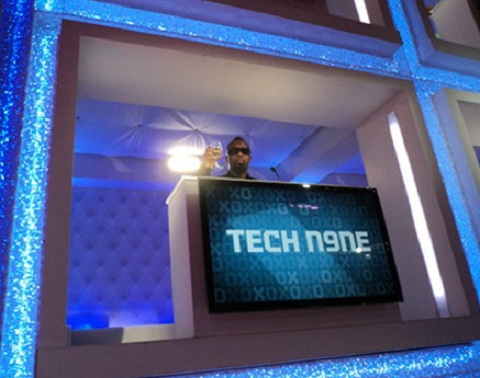 MTV2's Hip Hop Squares has all of hip hop talking as some of the biggest names in the industry brought the party to cable television for the brand new game show.
With all eyes on Hip Hop Squares for its big premiere, AllHipHop.com visited the set and caught up with some of the cast for their thoughts on the new show. Discussing what it meant for his movement, Tech N9ne spoke to AllHipHop.com about his participation in Hip Hop Squares:
"I think it's beautiful that they would call on independent artists like myself and Mac Miller to come be seen 'cause my movement is underground. It's bubbling into the mainstream but it's an underground movement so to be a part of something like this is a wonderful thing."
AllHipHop.com also spoke with comedian Donnell Rawlings and even grabbed an exclusive video with some of the season's top names including Method Man, Biz Markie, and Vinny of Jersey Shore fame.
With two more Tech N9ne appearances scheduled, there's still plenty for fans to look forward to.
Click here to read the full article.
How do you feel about Tech N9ne's mainstream exposure?
Who else are you looking forward to seeing on Hip Hop Squares?
Let us know in the comments section below!