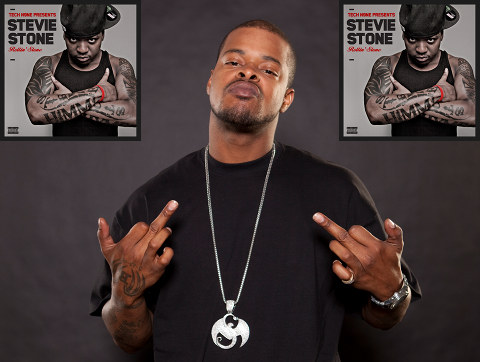 It's been a while since fans heard from Kutt Calhoun, save for an appearance on Krizz Kaliko's "Abu Dhabi" with the 816 Boyz earlier this spring. So when Stevie Stone's Rollin' Stone featured the Kansas City Chief on "Keep My Name Out Your Mouth", listeners were reminded why it is that Kutt Calhoun is so dangerous when tapped for guest spots.
Produced by Tali Blanco of Makithrt Entertainment, "Keep My Name Out Your Mouth" slams with thunderous bass and features Stevie Stone and Kutt Calhoun taking aim at anyone acting shady. Long considered a potent duo, Stevie Stone and Kutt Calhoun alert the streets and come together for an early favorite from Rollin' Stone.
Looking to get a closer look at his guest spot, we recently caught up with Kutt Calhoun and asked him to break down his verse on "Keep My Name Out Your Mouth".
What exactly are you trying to get across with this verse?
For anybody that got something to say or think you can fuck with me, I'm letting you know you can't. In the meantime, keep my name out your mouth. You ain't fucking with me. I'm totally focused. I say, "Ears clearer, eyes better, great vision/ to see that I make a pair of boots and belt up outta snake niggas" Snake niggas are the ones that will smile in your face, but want to see some harm done to you, don't want to see you make it. I categorize those cats as snake niggas. That's why I'm sayin, "I make a pair of boots and belt up outta snake niggas." You can slither through the grass, I can see you comin'. I keep my grass cut low so I can see a snake in the grass. Nobody is going to stop me. I told you motherfuckers, "I'm Forever". If you didn't hear it on Red-Headed Stepchild, I'm forever. I ain't goin nowhere. The only one who is gonna make me stop is me. I ain't trying to stop no time soon. I'm about to recreate my whole sound. Just let motherfuckers know, Kutt Calhoun isn't gonna stop no matter what.
Basically, "Keep My Name Out Your Mouth" is a hard track. So everybody, go get Stevie Stone's album, Rollin' Stone. It's a great album. It's got a lot of energy. It has some heartfelt songs on there and it's a great album all in one. Basically I was just telling people you know, keep my name out your mouth. All the negativity doesn't do anything but make me go even harder.
It seems like you're the guy to go to for these types of tracks.
(laughs) Yeah, like on "Calm Down" and all that shit, that's my thing. Like, "Hey Hey Hey", don't fuck with me man. I go hard. A lot of people that have heard my music or my albums, they know I go harder on certain songs, but all it's going to take is one person to cross me or for me to get a whiff of somebody trying to bring me down – they don't wanna see me go all in. You haven't had nobody on your head until you got me on your head. I'm a real humble dude, I don't let this music shit or the Kutt Calhoun name go to my head, but at the same time, don't do the nice guy wrong. Those are the ones you need to worry about.
As long as everything stays copasetic and people keep that shit sealed, they won't see the dog unleashed.
-Victor Sandoval, Strange Music Assistant Editor
CLICK

HERE

TO PURCHASE TECH N9NE PRESENTS STEVIE STONE – ROLLIN' STONE
OR
HEAD TO BEST BUY AND GET YOUR COPY NOW!
What did you think of Kutt Calhoun's feature on "Keep My Name Out Your Mouth"?
Let us know in the comments section below!