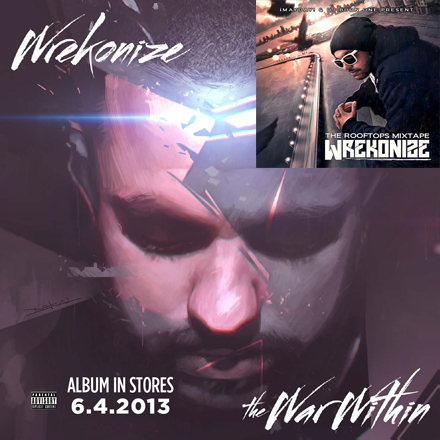 Wrekonize's career has already reached the rooftops, now he's taking the war inside!
Recently, Wrek sat down with The Sermon's Domain to talk about his new mixtape Rooftops, his upcoming album The War Within, and more!
Some of you might recognize the name of this blog The Sermon's Domain from Wrekonize's "Mighty Healthy Freestyle" in which he shouts out some of the more loyal blogs that held it down on behalf of the Miami spitter in 2012!
On the topic of his new album, Wrekonize confirms that Will Power and DJ Burn One are getting production credits, but says pretty much everything else is being kept in the shadows.
Wrekonize also credits Kendrick Lamar's "Monster Freestyle" as one of the best freestyles he's heard in a while.

As Wrekonize continues to prove himself to be one of the most prolific Strange Music artists of all time, we watch on in awe, all the while bumping the shit out of that Rooftops mixtape.
Click HERE to read the full interview!
What did y'all think of the interview?

Who do you hope to see featured on The War Within?
What's YOUR favorite Wrekonize freestyle?
Let us know in the comments below!