The Independent Powerhouse Tour is just days away from kicking off in Tulsa, and we don't know about you but we couldn't possibly be more excited.
The lineup is insane, the venues are perfect, and every artist on this tour has either just put out something new or has something new on the way, so chances are you're going to get some unexpected surprises!
As with every major Strange Music tour, the Independent Powerhouse Tour has VIP packages available, which grant you entrance to the show as well as admittance to a 1 hour meet and greet with all the artists on the tour, and over $350 worth of sick Strange merch!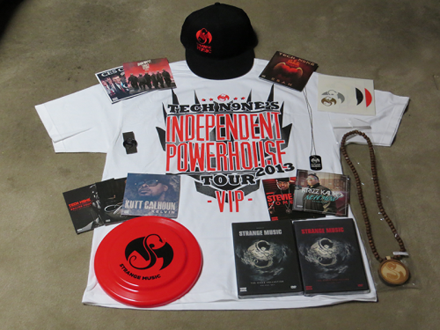 This might be the dopest VIP package ever assembled, and these things are going FAST. Seriously.
VIP packages have already sold out for Denver, Albuquerque (a 2nd show was recently added and VIP packages are still available for that), Tempe, Las Vegas, San Diego, Santa Cruz, and Seattle!
With names like Brotha Lynch Hung, Rittz, and Tech N9ne on the tour and the fact that these packages are going for $150 plus shipping, you can see why these things are getting snatched up so fast!
So don't miss out on your chance to meet your favorite Strange Music artists as well as get a sweet Strange Music merch package for the price of what some mainstream acts are charging for general admission seats!
Click HERE to purchase VIP Packages for Tech N9ne's Independent Powerhouse Tour!
What's the coolest thing in the VIP package?
Let us know in the comments below!