It seems like the last 2 weeks have been all about Rittz's upcoming Strange Music debut, and rightfully so.
Four tracks from The Life And Times Of Jonny Valiant have been released so far, and we've even seen one set of visuals for the southern-fried single "Like I Am", a track produced by Atlanta up-and-comer M. Stacks.
Everything about "Like I Am" is so infectious, we just had to talk with M. Stacks about all things production.
In the interview we got a few interesting tidbits, including M. Stacks' dream collaboration, some upcoming work with Strange Music artists, and more!
Check the full interview below, and keep an eye out for this guy. We have a feeling you're going to be hearing his name a lot more in the future.
What first got you interested in DJ'ing and producing?
Well, You know my dad was always really into hip hop growing up, he's the one that got me into like Mobb Deep and Wu-Tang and stuff like that.
I grew up listening to hip hop and my dad was from the golden era, ya know? I remember in middle school, I got expelled for an entire year, so I missed my entire 7th grade year of middle school. So, I was just basically at home with nothing to do and I remember I would just be at home listening to different mixtapes and different CDs and shit like that and watching MTV all day. I don't know what happened but I just came out positive one day like "Yo Dad, I think I wanna do music" and he was like, "Alright, well cool, when you return back to school for 8th grade, if your grades improve I'll have your back".
So that's exactly what happened, my 8th grade year my grades improved, I got some DJ equipment and some music production equipment like an MPC and stuff like that and it's been on since then.
What is your creative process like? Do you have the beat pretty much figured out in your head before you go to create it? Or do you find one piece of the puzzle and go from there?
Well, I mean I have ideas when I go in, but the way I work in the studio is I take a week, you know, making beats and then the next week I just focus on collecting samples 'cause, ya know, that's what I do. I chop samples and most of my stuff is sample based. When I go into work on a beat I just basically spend 2 or 3 hours going through samples, figuring out what I'm gonna do and then I just go from there.
When or where was the craziest set you ever did at a club?
I'm more than positive that it was in Cleveland. I DJ at this metal club, historically it's a metal venue, but they do hip hop shit there too. King Chip performs there all the time. Bone Thugs does a lot of stuff there too.
The craziest show was probably Trinidad Jame$, that was a crazy show. It had to be at least 3,000 people packed in there, so it's between that Trinidad Jame$ concert I recently did, and probably every show I did at SXSW this year. I was down there DJ'ing for a friend of mine Sean Falyon, and we had an event with SPIN magazine, then we had another event with Trinidad Jame$, and every event was packed. It was actually my first time down there so I was just stoked to even be down there. I was surprised I even got booked to DJ anything (laughs).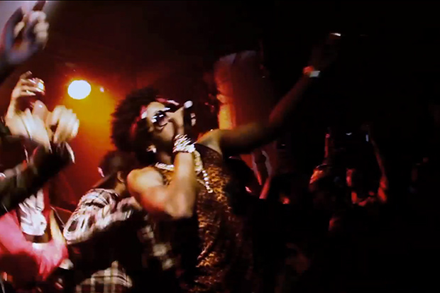 Your sound is really eclectic and soulful, who would you say are your biggest influences musically?
Hmm, good question. My favorite music producer is The Alchemist. I love The Alchemist, I grew up on The Alchemist. Like I told you earlier, my dad was heavy into Mobb Deep and [Alchemist] produced like everything for them. His stuff was probably like some of the first hip hop I ever heard to be honest. I grew up listening to him, Just Blaze, etc. These days I"m listening to a lot of Harry Fraud.
What was the music scene like in Cleveland growing up?
It wasn't like it is now. Now it's more cohesive and more together if you know what i'm saying. I remember as a kid growing up, it was probably like 3 or 4 cleveland artists that I knew of. But now with internet poppin' the way it is with social media sites, and with recording equipment becoming cheaper and cheaper every day to be honest, it's like a new rapper pops up every single day. So obviously the music scene in any city right now is gonna be more poppin' than it was 10 years ago.
Did you already have the "Like I Am" beat cooked up before you hooked up with Rittz, or did you create it especially for him?
Well, the "Like I Am" joint, I cooked up especially for him. What happened was when he first reached out and was like, "Yeah man, send me some beats." I sent him some stuff that was pre-made.
After that he basically hit me back like, "Uhh you know I'm feelin' the sound but this isn't necessarily what i'm going for", he kinda broke down to me exactly what he was looking for. And then I was like "Okay, well I know he's working on a project, I have to get on this, so I'm gonna stop being lazy," and what I did was I called my guitar player guy up and we just hit the studio and made some custom shit.
That's how "Like I Am" came about. It's funny because "Like I Am", the main part of it was a sample that I chopped up, and it was mad hard to clear so after Rittz recorded he was like, "We're not really trying to clear this sample, what can we do?" So I said, "Cool, let's just scrap the sample." So I had my dude come in and we actually re-played it, so that whole thing is original.
Have you heard Rittz's album yet? Do you have a favorite track?
Yeahhhh, unfortunately I have heard it because of the leaks. I'm not gonna be a dick and say my track is my favorite (laughs) but other than mine, the intro was crazy. I know Track Bangerz did that, the intro definitely sets the tone for the entire album so I would say that is one of my favorites, and of course "All Around The World". A lot of Rittz's music hits home with me because I can relate. He's just a relatable guy, ya know? I think that's why we get along so well. So definitely "All Around The World", the intro, and that one Mike Posner joint, "Switch Lanes". Oh, and I can't forget about "For Real", I play that shit in the crib and it makes me just wanna kick over my computer.
If you could create your dream track, who would be on it and what would it sound like?
Hmm, my dream track… Would probably have to be for…man, that's a good question!
Probably Eminem, ya know? Like, who doesn't wanna produce a track for Eminem? What would it sound like? The stuff that Eminem usually raps on isn't all that soulful. He's got his own style, his own twist to the shit he raps on. I'd definitely want to do some soulful, slowed-down 808-type shit for Em, because I've never heard him do some shit like that. I think it would be super-dope. So probably like a collaboration between Em, Yelawolf, and Rittz.
That would probably be my dream track right there.
Would you be interested in working with other Strange Music artists? If so, which ones?
I know Krizz Kaliko is super dope, I definitely wanna work with him. Of course Tech, who doesn't wanna work with him? He's a legend in the rap game, period.
I'm actually DJ'ing for Stevie Stone here in like two weeks, and I haven't even met the guy yet, but I can almost guarantee we're gonna have some work comin'.
Do you have any projects coming up? Anything you wanna let the people know about before we get outta here?
Yeah definitely man. I have an exclusive project dropping, it's untitled for right now. But just know I have an exclusive project dropping with Hot New Hip Hop.
I got crazy features on there. Of course Rittz is gonna be on it, my dude Sean Falyon, Tuki Carter from Taylor Gang, Naledge from Kidz In The Hall, so you're gonna be able ot get that off Hot New Hip Hop, and of course MixStream cause all the projects I release are released through MixStream which is Terry Urban & Mick Boogie's mixtape site. So a lot of crazy stuff coming up.
Click HERE to pre-order Rittz's album The Life And Times Of Jonny Valiant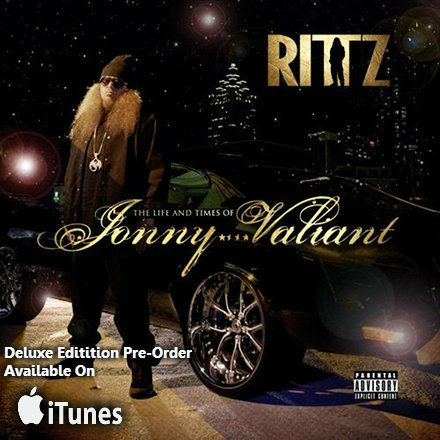 Which track are you the most excited to hear?
What would YOUR dream track be?
Let us know in the comments below!