It's said that you spend your whole life writing your debut album. For most emcees, a major debut comes early in their career and sets the pace for what is to come. For Rittz, a major debut comes years after struggling through the rap game and nearly quitting before receiving motivation through his friend and peer, Yelawolf.
The Life And Times Of Jonny Valiant arrives on April 30th, and although the album bears a title inspired by his alter-ego, the project is fully-backed by cuts that tell you everything you need to know about the real Rittz.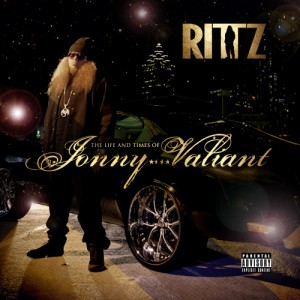 While traveling the country on the Independent Powerhouse Tour 2013, we had the opportunity to catch up with Rittz and discuss the work that went into his upcoming album.
From his dedicated recording schedule to laying another one down with the Strange Music general, Tech N9ne, Rittz gave us our first full understanding behind The Life And Times Of Jonny Valiant.
What was your overall goal for shaping this album?
The overall goal – I really wanted to give it a certain sound. Finding the right production was important. I wanted to make it a personal and lyrical album with the right beats to keep it perfect – not too mellow or too hype. I've always envisioned what my debut album would sound like and I think I did it.
It sounds like you went in with the vibe in mind before even thinking about the writing.
Yes, 100% went into it with the vibe in mind before the writing. I wanted the vibe to have a gangster feel, not to use "gangster" in a weird way, but I wanted it to be hard and on some gangster shit.
I noticed Seven didn't contribute to the album and that only stands out because he produces for nearly every project. Were you guys not able to get together?
It wasn't intentional, really. When we started going into the album, I wanted DJ Burn One to shape the sound of the album. I had already spoken with him and explained that I wanted West Coast synths over down south drums. We started shaping the album before I even knew what other producers I would be working with.
As far as Seven goes, he sent me a bunch of tracks right when all I needed was one more song to write. Timing -wise, it just didn't work out. Plus, I wanted to go through with the people I had used before and keep my formula. Seven is definitely DOPE, so I'm not opposed to working with Seven, but working with other producers also brings a different sound to Strange.
You wrote this entire album on a deadline. Was that difficult for you?
Yeah, that sucked man. It wouldn't have been as bad if I didn't tour. I went on the Slumerican Tour right after I signed the deal and started to get the details about my album's release. Right then, I had to go on the Slumerican Tour, which was two months long. I don't know, it's really hard to write on the tour bus with that many people around.
I got back from the tour in late November actually and I had to start recording in December. There was a lot of pressure, but I remember on the bus, Yelawolf was like, "You work good under pressure. I know you don't think you do, but you do." It turns out, I did. I made it a goal. I would go to sleep early at night and I just sort of nine to fived it. I would wake up super early in the morning, go over to where I write at – really man, all this shit was written on coffee. Just early morning writing. I would try to get as many songs done as I could, go home, and go to sleep early for the next day. I did it just like a job until it was done. I didn't do any late or crazy nights at the studio with whiskey or anything like that. I was strictly treating it like a job – go in every morning, get something done. It turned out good.
Where would you say that your focus was as far as writing? Was it on telling stories or showing off your lyricism?
A little bit of both. I think there's more story-telling than lyricism, but I try to include lyricism within the storytelling as well. Even when you're telling a story, you can make syllables match and show off rhyming inside of rhyming. Basically – how it works for me, I have a list on a dry-erase board. I write down all the names for the beats that I know I'm going to use for the album. I kind of hum out ideas or topics, you know, 'Is this going to be a story record? Is this going to that kind of record?' I'll write beside that beat what kind of song it's going to be. Then, every day I'll go in, pick it, write it, and I'll cross it off the list. So, before I even started, I knew whether each beat would be a story or a lyrical song.
Who would you say influenced your writing the most?
If I had to narrow it down to one person, probably Eminem – he's influenced my writing the most. I only say that because when he first came out with all of the wordplay and the syllable-play, nobody really rapped like him. Everybody had to step their game up. He probably influenced me the most, as much as one person could.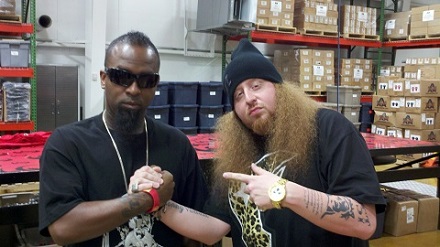 I know Tech N9ne made it on the album. What can you tell me about that track? What's the concept behind it?
Tech MURDERED. As he always does. With that song – I wanted a Strange type of song. I wanted it a little darker and a little harder. People are always saying Tech is a cult leader and they say all this shit about Tech, so I wanted to make a song like Tech told me to kill them. So, say no more, I got it. It has clips of Tech's interviews in between.
It was really like, okay, I'm signed to Strange Music and this is my Strange song. It's Tech and Krizz Kaliko on there with me. Tech fucking smashed on it.
I know you have to be talented in the first place to even jump on a track with Tech, but is it ever intimidating to follow him or even go before him? Do you ever have an "Oh shit" moment?
Yeah, you normally do. I've been arguing with people on the bus because one of the things I HATE about the day we live in where everyone says, "Oh man, he MURDERED him" or "He killed him". I really hate that. That all started when Jay-Z and Eminem did "Renegade" together and then Nas dissed Jay on "Ether" and said, "Eminem murdered you on your own shit."
Ever since then, you can't collab without someone saying, "He murdered him." I just say, Tech murdered it, but it's not like, "Tech killed him." It's just something that really frustrates me. Back in the day, you never heard, "Oh, Biggie and Method Man did a track together. Damn, Method Man murdered Biggie." You just wanted to hear both of them.
So, if Tech asks me to write for one of his records, I might feel that way. If I ask Tech get on a song – no, it's not intimidating at all. I want him to get on there and do the best he possibly can. That's why you get him for the album. That person is supposed to kill it. You're supposed to want that from them. All you can do is get on there and do the best you can with your verse.
I don't really feel intimidated when I get him or any other rapper on my record. I hate the whole competition between verses. I think people should just like each person for what they bring.
I hate that term. Especially with features because I'll write a feature for someone and they might go and re-write their verse or vice-versa. Someone is always going to shine. They're supposed to shine. Why would you want them on the record if they're going to suck?
How do you think this album will stand out from the long line of releases this year?
I don't know, but we'll see. The Strange Music releases I've heard already are dope as fuck. I just hope it gets a chance and I think it will. I'm getting a nice reception out here on the road and the people are embracing me. Plus, I had a little bit of a fan base before signing. I'm just hoping people hear it and get it – and that they like it.
As for Strange, I hope it adds to the roster and makes both the label and my label – mates proud.
– Interview by Victor Sandoval, Strange Music Social Media Dept.
CLICK HERE TO PRE-ORDER THE LIFE AND TIMES OF JONNY VALIANT!
What did you think of Rittz's approach to the album?

Are you excited to hear his latest collaboration with Tech N9ne?
Let us know in the comments section below!