Strange Music has always made it a point to showcase local talent during nationwide tours, and the Something Else Tour is no different.
With the tour's inaugural show in Tulsa going down this Thursday (Sep. 5), we decided to shine the spotlight on local openers TripC, a three man hip hop group from Oklahoma. TripC consists of Adam "TripC" Hartzke, Greg "ESP" Davis, and Harrison "HBomb" Williams. The group has been opening for Strange Music shows since May of 2005, so this is not their first rodeo.
When asked what Tech N9ne means to them as live performers, they tell us, "Tech N9ne is proof that you don't need mainstream backing to burn your mark on the world. That it's possible to be a music icon without being a puppet." Truer words were never spoken.
TripC describe their live show as "high energy and aggressive" with a special appeal to fans of metal and punk rock. As metal heads and punk rockers who found themselves immersed in the hip hop world, they admit that a lot of their material leans towards rock, so it makes sense that they teamed up with the metal band Zeroed Out for a remix of Limp Bizkit's "Break Stuff", which they hint at performing at the upcoming show at Cain's Ballroom on the 5th.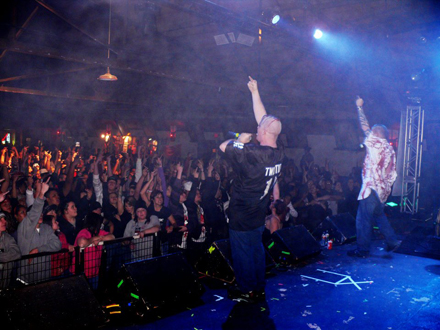 When asked what words they have for all the Tech N9ne fans out there, they have a simple message:
KEEP ROCKING OUT! Tech N9ne fans are some of our biggest supporters, if it wasn't for y'all we wouldn't have broken out of the local scene and would still be scrounging for shows in pool halls and bars on the bad side of town, so thank you!
They also have some closing words for all you musicians out there: HUSTLE.
TripC will be performing at Cain's Ballroom September 5th for the first show of the Something Else Tour 2013, don't miss them!!
CLICK HERE TO PURCHASE VIP PACKAGES
FOR THE SOMETHING ELSE TOUR 2013!