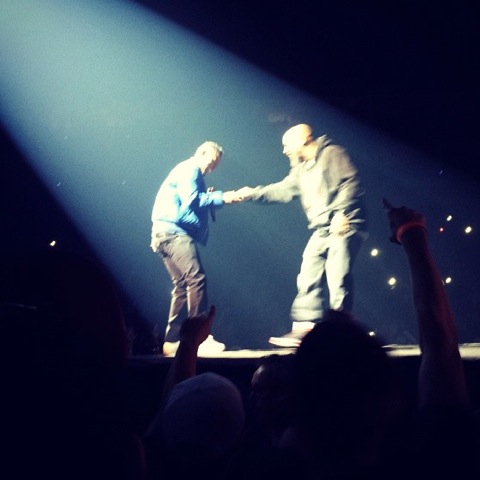 From one elite emcee to another: real recognize real.
After shooting a music video with Tech N9ne, ¡MAYDAY! and Kendall Morgan for "Fragile", Kendrick Lamar took to the stage the next evening as the opening act for Kanye West on the Yeezus Tour.
The tour's stop in Kansas City wouldn't be complete without an appearance by the Kansas City King himself, as Kendrick Lamar took the time to bring out Tech N9ne for an instrumental breakdown of "m.A.A.d. city".
Kendrick's history with Tech N9ne goes all the way back to the Independent Grind Tour when Kendrick performed as Jay Rock's hype man. Since then it's been all love and music, as Kendrick appeared on Tech N9ne's All 6's and 7's ("I Love Music") and most recently the hit song "Fragile" from Tech's Something Else.
Luckily the public reunion at the Sprint Center was captured for all to see. Take a look below.
WATCH
CLICK HERE TO PURCHASE SOMETHING ELSE