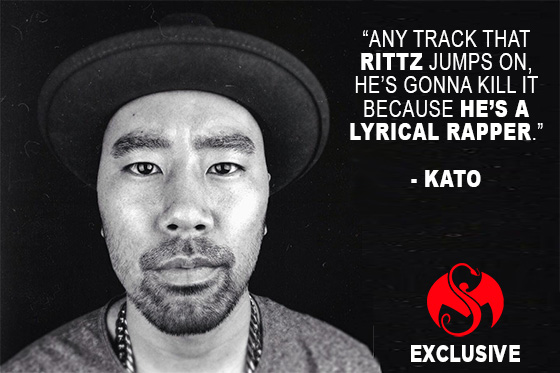 With Rittz's Top Of The Line just weeks away (May 6th), we decided to get a hold of some of the people involved in the production process.
One of the first names on our list was Kato, the man behind the production of "Ghost Story" and "Back To Yesterday". Kato is hip to Rittz's music, for they both reside in Atlanta and have worked together for some time now. Here's what Kato had to say both about Top Of The Line and what he's got planned for the future.
So you started working with Rittz on the "Pimpin Mane" Remix and Jarren Benton's "Billion Bucks" with Jon Connor. How did that connection come about?
So, Rittz is from the same city (Atlanta), and I would run into him way back in the day, just from being on the same shows and running around in the Atlanta scene. When I started working with Jarren, it was just kind of a mutual love and respect that we had for Rittz and his music. A lot of the people that I associated with were working with him. When it came time to work on Jarren's music, we reached out to Rittz and he showed love. So, we got him on some tracks.
That's dope. So was Jarren Benton's "Billion Bucks" featuring Rittz and Jon Connor the first time you worked with Rittz?
Yeah I wanna say it was "Billion Bucks". That's the first joint that we did together with Jarren, Rittz, and Jon Connor. That was for Jarren's mixtape.
Getting into Top Of The Line, how did Rittz come at you with that? Did he hit you with a sound he was looking for or did you have something in mind before that?
Well, because Rittz and I have worked together before, he's just an easy artist to work with because I understand his process and his sound. Come album time, I can always expect him to hit me up via email or text like, "hey I'm working on a new project, shoot me over some beats", and it's really as easy as that with Rittz. I kind of know his sound, so if I don't have anything in the folder for him that would fit that, then I make something for him. I normally just send it to him right after I make it. That was kind of the process for Top Of The Line. I just sent him over the beats and he immediately let me know if he was fuckin' with it or not. We just went from there.
So, in your YouTube videos, you said that you like to know the artists style before you hit them with a beat. What style or sound would you associate Rittz with?
I mean, I think his influences say a lot about the type of artist that he is because Rittz is just a spitter. Ever since I've known him, he's just got that machine gun flow. Any track that he jumps on, he's gonna kill it because he's a lyrical rapper. He also knows how to play with harmonies and melodies. That's a big plus for any artist if they can do that. I feel like that's something that he's kinda developed over the years. I think that's super dope.
Getting into production in general, what kind of programs are you using? For all upcoming producers out there.
So, when I first started producing, I started out in FL Studios. I just started messing around with beats. Then, a few years later, I got introduced to Reason. That's what I've been on ever since. People either love or hate Reason, because the interface can take some getting used to. People that jump into it will either get it or they don't, and I was one of the lucky ones to get it. I love Reason now – that's my shit.
What else do you think we can be expecting from you in 2016?
Man, I wanna work with Strange more. Y'all have such a crazy roster of artists that are so versatile and dope in their own right. So, my hope for 2016, is that I get to work with every single one of them, including Tech. I really want to try and get some work in with Tech as well. Aside from that, there's a bunch of people from Atlanta that I'm working with: a lot of new artists, but nobody that I wanna put out there yet. I like to surprise people sometimes with my collabs. A lot of music is comin' this year, man!
What'd you think of the interview?
Would you like to see Kato behind more Strange Music production?
Let us know in the comments section below!
CLICK HERE TO PRE-ORDER TOP OF THE LINE