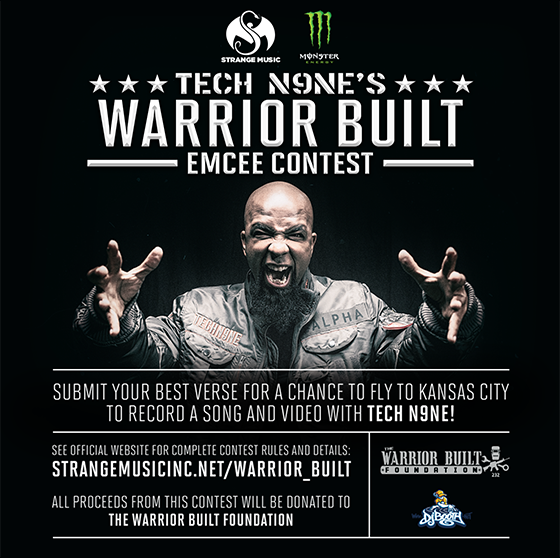 Tech N9ne's Warrior Built Emcee Contest is about to change someone's life in a BIG way!
If you are an aspiring rapper and want a shot at this once-in-a-lifetime opportunity, we have the ultimate contest for you! Partnering with our friends at DJ Booth, Monster Energy, and the Warrior Built Foundation, you now have the chance to fly to Kansas City to record a song and video with Tech N9ne!
To enter Tech N9ne's Warrior Built Emcee Contest, record a 16-bar verse over a new Tech track, "P.T.S.D.", which can be downloaded on Soundcloud. Once completed, attach the MP3 file to the submission form when applying for the contest.
All proceeds from this contest will be donated to the Warrior Built Foundation, an organization that honor soldiers sacrificing their lives for our country.
Submissions open Tuesday, August 9. Do not wait too long though – this contest ends Tuesday, September 6!
Good luck!
Note: This contest is open to United States residents only.
A message from Tech:
"P.T.S.D.": (Available for download)
CLICK HERE FOR MORE INFORMATION!