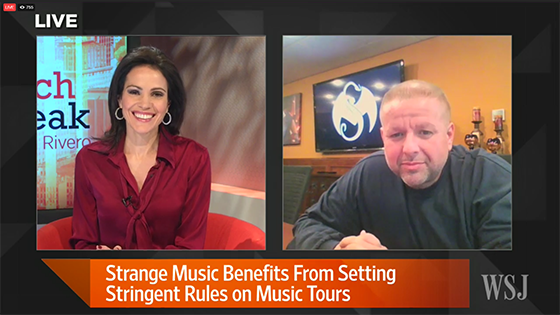 Travis O'Guin runs a tight ship when it comes to his touring rules, but for good reason.

Strange Music CEO Travis O'Guin has run Strange Music with co-founder Tech N9ne for 17 years. Throughout this time, Travis has picked up on certain methods that continue to move his company forward, tirelessly working to give his label the recognition it deserves. Even through the obstacles, he has created one of the most respected independent record labels in the world.
Via Facebook Live, The Wall Street Journal spoke with Travis on their show – Lunch Break With Tanya Rivero. They dove into how Strange Music has kept their business afloat, which relies heavily upon a stringent set of tour rules, according to Travis:
If you're not disciplined, you're not going to be able to capitalize on [touring and merchandising]. Every single rule in the tour book is because of something that somebody has done, as crazy as that may sound, because there are so many rules in there. I would have never guessed that I would have had to put 'Do not light anything on fire while on stage', but Machine Gun Kelly actually helped me write that one.

Each rule has a different degree of punishment. What we started doing was implementing fines. We started a fining system that would allow us to maintain order, because once I started hitting people in their pockets, it allowed me to get their attention. They began to think a little bit more about their actions.

A lot of people assumed, 'Okay well, he's just going to fine us and that's just more money for him.' The unique thing about these tour rules is, at the end of the tour, whoever got fined, gets to pick a charity of their choosing, as long as it's a legitimate charity, and we donate all of their fines in their name to that particular charity.
The touring model Travis and Strange Music have established is one destined for both short and long term success. Other artists and record labels have already begun to implement their own versions of Travis' model, demonstrating the influence he has on both the artists that tour with Strange Music and the industry altogether.
Watch the full interview below! Travis goes on air at the 16:20 minute mark.
Millennials living at home amid a booming economy and labor ma…

Lunch Break With Tanya Rivero: Why are millennials living at home amid a booming economy and labor market? The air shuttle is making a comeback, thanks to JetBlue. Learn how Catherine Bloom became a personal shopper to the rich and famous. Strange Music's strange touring rules put in place by Tech N9ne have translated to millions in revenue for the company.

Posted by The Wall Street Journal on Wednesday, December 21, 2016
What did you think of Travis' reasoning for his business model?
Let us know your thoughts in the comments below!